Discount start-up Avelo Airlines is planning a springtime expansion of its national network with three new destinations in Colorado, Texas and Virginia, bringing the total number of cities it serves to 35.
In May, the ultra-low cost carrier plans to launch non-stop service between its base in Burbank, California and Brownsville South Padre Island International airport in Texas with twice-weekly flights, and thrice-weekly non-stop flights between Burbank and Colorado Springs airport, Avelo said on 23 February.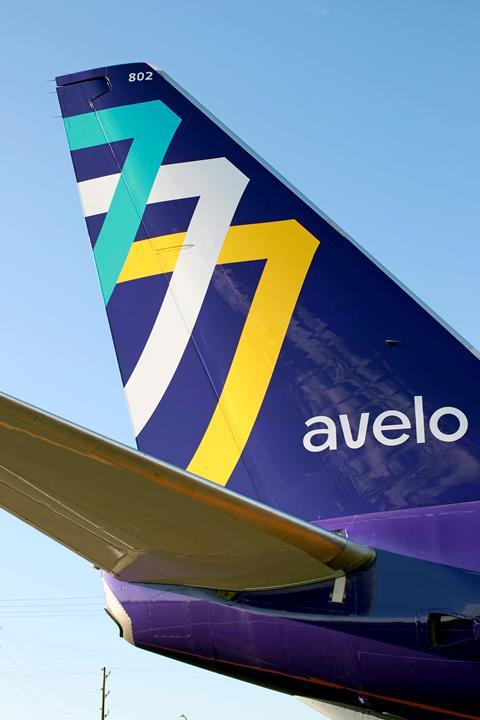 In the same month, Avelo will also roll out twice-weekly flights between Orlando International airport and Charlottesville Albermarle airport and Orlando and Brownsville South Padre Island.
"Avelo is growing again," says chief executive Andrew Levy. "The addition of these three new destinations and four new exclusive non-stop routes exemplifies our commitment to bringing affordable, convenient and reliable air service to unserved and underserved communities across the country."
"As a Houston-based company, we are especially excited to welcome our first Texas market to Avelo's network," he adds.
The flights will be operated with Avelo's fleet of Boeing 737NGs. The airline currently operates 14 737s, with deliveries of two more of the type expected in the first half of 2023.
Privately owned Avelo kicked off its operations in April 2021, focusing on connecting cities with limited air service and secondary airports near urban centres.
"We really like underserved airports with no non-stop service before we get there," chief financial officer Hunter Keay told FlightGlobal in December.
The airline is pursuing an aggressive expansion plan, as it expects to roughly double the number of its departures this year.