Avelo Airlines will provide service to four popular beach destinations in Florida when it launches its new East Coast US base at Tweed New Haven airport in Connecticut.
The Houston-based low-cost carrier says on 19 August it will fly from New Haven – located about 60m (100km) northeast of New York City – and Tampa, Fort Myers, Orlando and Fort Lauderdale from 3 November.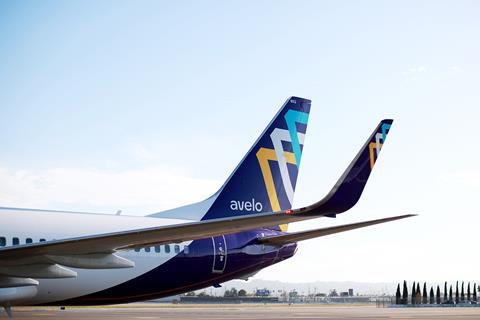 With these routes, the airline hopes to capitalise on the annual winter migration of so-called "snowbirds" – residents of the Northeast USA who flock to Florida during the coldest time of the year .
Avelo says it will be the first airline to fly between New Haven and Florida, and that the flights mark the largest expansion of service at the airport in more than 30 years.
The carrier will fly the routes with a Boeing 737-700 configured with 147 seats in a single class, the airline says.
Avelo, founded by former United Airlines and Allegiant Air executive Andrew Levy, began selling tickets on 8 April and started flights three weeks later. It now flies only in the western USA, primarily out of a hub at Los Angeles-area Hollywood-Burbank airport, serving nine destinations.
Avelo in May said it would open a second base in New Haven before year-end. It committed to invest $1.2 million to help upgrade and modernise facilities and operations at the airport. Those funds are part of a $100 million improvement project underway at Tweed that includes construction of a new terminal and a runway extension.
At the time, the airline said it would base more than 100 staff at Tweed, including pilots, flight attendants, customer support staff and technicians.
New Haven sits on Long Island Sound, in the populous New York City-Boston corridor. In the last 15 years, airlines operated flights from New Haven to cities including Baltimore, Cincinnati, Philadelphia and Charlotte, according to Diio data. In past decades, commuter airlines also flew from Tweed to various destinations within New England.
Today however, Tweed has just one commercial airline route – a flight to Philadelphia operated by Republic Airlines on behalf of American Airlines. For other connections, air travellers must go to Westchester County airport in New York or Hartford's Bradley International airport, each about a 1h drive from New Haven. Less convenient and further away are New York City's LaGuardia airport and John F Kennedy International airport..
Avelo was one of two new domestic airlines that entered the US market this year. The other is Breeze Airways, which began flying in the Southeast USA at the end of May.