Avianca has suspended domestic flights through at least 12 April, citing the Colombian federal government's closing of the country's airspace, which commences 25 March.
The Colombia flag carrier states 24 March that it will "coordinate with governments and their respective embassies to ensure continued humanitarian and repatriation flights".
On 20 March, Avianca ceased its international passenger flights beginning 23 March, stating that although the government's move to limit the spread of the coronavirus did not presently include restrictions on domestic air transport, domestic demand has been "severely impacted" by diminished international connectivity and that it was thus reducing its domestic capacity by 84%.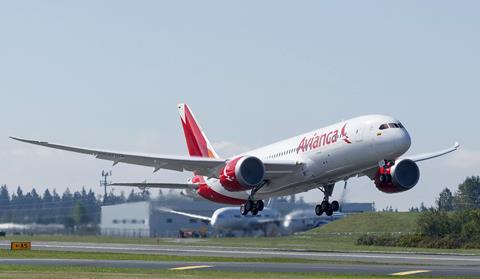 Avianca had been scheduled to operate routes to 28 domestic and 48 international destinations in March, Cirium schedules data shows.
On 23 March, S&P Global Ratings downgraded Avianca's credit rating two notches to 'CCC'.
"Reduced travel demand and capacity will affect Avianca's credits metrics," wrote S&P Global on 20 March, after the Colombian government announced plans to shut down international air operations as part of its fight against the coronavirus.