British Airways has cancelled its Moscow flights and will re-route its Asia services to avoid Russian airspace, as the impact of Russia's invasion of Ukraine reverberates through the airline industry.
The decisions come after the UK government's announcement on 24 February that Aeroflot had been prohibited from UK airspace, and the subsequent retaliatory ban by Russian authorities on UK services.
Speaking during a fourth-quarter results briefing, the chief executive of BA owner IAG, Luis Gallego, said the UK flag-carrier's Moscow service has been cancelled, but "we can maintain the schedule we had in mind" for Delhi and Singapore flights on 25 February by re-routing the services around Russian airspace.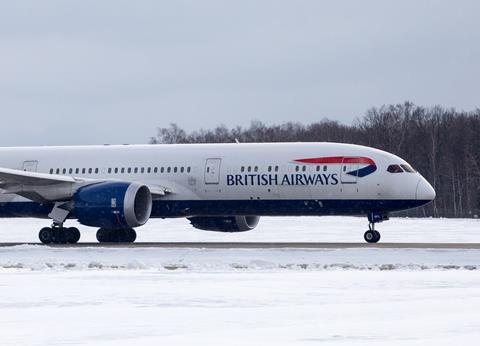 Gallego notes that BA's capacity to the east was "very much reduced" amid continued Covid-related travel restrictions in the Asia-Pacific region, meaning the impact of the developments was limited.
Nevertheless, the group continues to monitor the impact of crisis in Ukraine, he states.
BA's Asia network in February further includes several other destinations in India and Pakistan, alongside services to the Maldives.
IAG is continuing to guide for a "significant" full-year 2022 profit, it said today, on capacity at 85% of 2019 levels.