While Bahrain's now demolished former airport terminal had a certain compact, retro charm, few would have described it as a national gateway fit for the 21st century. Not so the building that replaced it in January last year. An airy, light-filled structure four times the size of its 1970s predecessor, it is one of several striking new terminals that have sprung up in the Gulf in recent years, including in Abu Dhabi, Doha and Muscat.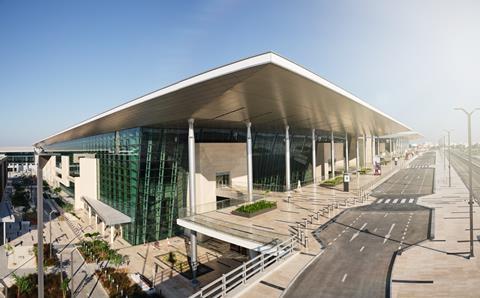 The building – construction on which began in 2016 – has massively increased the airport's capacity to 14 million, with 12 direct-access gates each able to accommodate a widebody or two narrowbodies. This compares with just seven in the original terminal, where passengers were often bussed to remote stands during busy periods. That alone "makes for a much better customer experience", insists Bahrain Airports Company (BAC) chief executive Mohamed Yousif Albinfalah.
If the terminal seems particularly spacious it is partly because traffic numbers at Bahrain are still around two-thirds of pre-pandemic levels. The building it replaced had a design capacity of just four million passengers, but saw 9.7 million pass through its doors in 2019. Bahrain Airport Company (BAC) expects to handle about 6.5 million people through the new terminal in 2022, with Albinfalah confident of matching the pre-Covid-19 total next year.
New terminal buildings are never guaranteed a smooth introduction to service – witness the teething problems faced by the likes of London Heathrow's Terminal 5 and the years of delays at Berlin's Brandenburg. However, Albinfalah says Bahrain's performance so far has been "excellent for a new building with highly sophisticated systems and technologies". He adds: "Everything has been running smoothly, with is remarkable when you think of other experiences around the world."
Airport review organisation Skytrax has audited the terminal and awarded it its top five star rating in areas such as cleanliness, shopping, and security/immigration. "It is good to be recognised by the industry in this way," says Albinfalah, who admits that the process of commissioning, constructing and bedding in the new facility over the past six years has been "a very challenging journey". He continues: "The success is testament to all the effort and teamwork that went into the project."
Before the pandemic, Albinfalah and his team had been debating whether to move from the old to the new terminal in a "big bang" or in a gradual process over a few months. Both had their advantages and drawbacks, given that part of the former building had to be demolished to complete the building work on its replacement. The almost complete collapse of passenger traffic in March 2020, just months before the building was due to open, made the decision easier.
"We thought this is an opportunity that is not going to repeat itself, so we might as well capitalise on it," says Albinfalah. It meant his team was able to launch operations in week one without facing the headache of processing tens thousands of passengers new to the layout of the building. However, there were hurdles. The airport had to conduct trials in late 2020 using small groups of off-duty staff rather than the public volunteers it would have normally recruited to test its systems.
NEW TERMINAL OPENS
On 28 January 2021, five years of planning, building and fine-tuning ended. The first flight from the new terminal – which was partially funded to the tune of AED 3.7 billion ($1 billion) by the Abu Dhabi Fund for Development – was operated by Gulf Air, an Airbus A320neo service to New Delhi. The national carrier had also made the final flight from the old terminal a few hours earlier, to Dubai, and notched the first arrival at its successor, a Boeing 787-9 service from Lahore.
The new terminal has a number of features that Albinfalah believes add to its distinctiveness. The departure area includes a display of marble sculptures by Bahraini artists that depict the kingdom's heritage. A 60-room airside transit hotel also provides 24 sleeping pods for transiting passengers and provides a spa. A souk-style shopping area offers local produce and jewellery. Alongside the expanded Gulf Air business-class lounge there is a premium lounge for passengers of other airlines.
Gulf Air represents around 60% of traffic at Bahrain, but BAC is working hard to attract more airlines, says Albinfalah. Those who have recently added or resumed services include Ethiopian Airlines, IndiGo and Wizz Air Abu Dhabi. While the airport is not a global hub on the scale of Dubai or Doha, 60% of Gulf Air's traffic is connecting. Meanwhile, a burgeoning tourism sector, business, and guest worker connections to the subcontinent remain major drivers for other airlines serving the airport.
Cargo is key to the airport's business model, given Bahrain's ambition to become an east-to-west logistics and e-commerce crossroads for air, land and sea freight. The airport is home to one of German parcels and logistics giant DHL's four global hubs.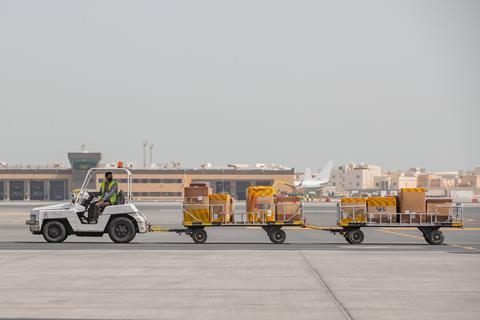 The Khalifa bin Salman container port is just 10min by truck from the airport, allowing forwarders to transfer the content of containers from Asia to aircraft. Cargo can also travel by road via the causeway to Saudi Arabia.
BAC began work on a 25,000sq m Express Cargo Village on the north side of the runway in June, signing a 10-year agreement with DHL's rival FedEx Express, which will move into a 9,000sq m area of the facility in the third quarter of next year. Albinfalah says negotiations are underway with further potential tenants. "Cargo and logistics is a major element of the government's economic recovery plan," says Albinfalah. "We are a component of that strategy."
BAC is also catering for business aviation with plans to convert into a private terminal the original airport building that dates from the 1960s and recently housed the offices of the aviation regulator. The 4,000sq m (43,000sq ft) Awal Private Terminal, as it will be known, will offer meeting rooms, private parking and a duty free shop. A royal pavilion in likely to be built in the space occupied by the demolished terminal.