Vietnamese carrier Bamboo Airways is expected to operate direct charter flights to the US West Coast from 23 September, after receiving regulatory approval.
It has been cleared to operate 12 direct flights from Vietnam through November, according to the airline's Facebook page.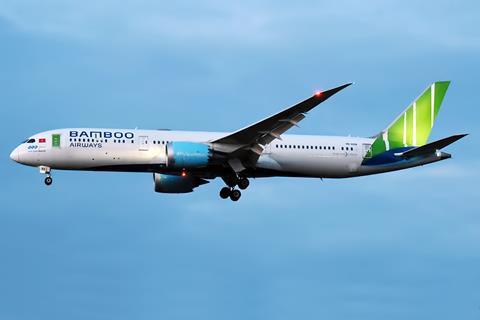 It expects to operate from Hanoi and Da Nang to cities such as Los Angeles, San Francisco, as well as Seattle.
The charters, to be operated with Bamboo's Boeing 787-9s, would be the first direct flights between the USA and Vietnam.
FlightGlobal previously reported in June that the carrier was eyeing North American charters in late-June or July, though a subsequent wave of coronavirus infections in Vietnam meant plans had to be delayed.
Bamboo said in June that the USA was a "potential market" given the significant Vietnamese diaspora in the country.
"Besides, US-Vietnam trade is being significantly promoted, which will lead to a higher travel and trade exchanges demand," the carrier told FlightGlobal.
Cirium fleets data shows Bamboo Airways to have a fleet of three 787-9s, with only one in service. The carrier also has another 10 examples on order.