Romanian low-cost carrier Blue Air expects passenger numbers to match 2019 levels this month barring any new Covid travel restriction announcements.
Blue Air carried over 300,000 passengers in July, around three-quarters of the number it flew in the same month in 2019 before the pandemic hit.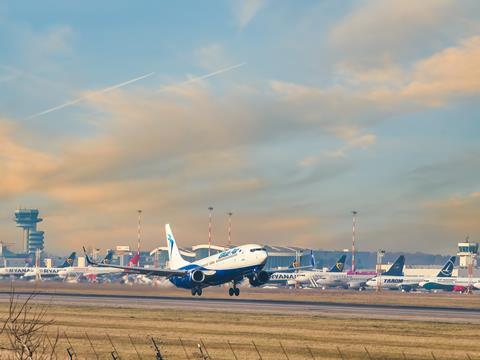 "Blue Air is on track to reach a full recovery to 2019 levels in August 2021 and indeed across the rest of the summer period, provided there are no further prohibitive restrictions imposed," the airline says.
The carrier adds that it is "now consistently" operating at loads factor of over 80%.
Blue Air chief commercial officer Krassimir Tanev says: "In 2021 we have embarked on an ambitious multi-year commercial strategy focused on becoming the ultra-low-cost airline of choice for our customers and strengthening our leadership position on our home market.
"We have completely re-invented our network to make it even more competitive and attractive, focusing on primary and central airports and introducing 32 new routes under the summer 21 schedule."
The airline says it has recorded an 11 point increase in its market share in Romania from 14% before the crisis to 25% in 2021, while it has also acquired slots and has or is launching flights at primary airports including London Heathrow, Frankfurt, Paris Charles de Gaulle and Milan Linate.
Last month details emerged under which Blue Air would list on the London stock exchange via a reverse takeover of its parent Airline Invest by Ridgecrest.
The Bucharest-based carrier launched operations towards the end of 2004 and has built a fleet of around 20 Boeing 737s, operating multiple variants from the older 737-500 to the -800 and the new 737 Max. Under accelerated fleet renewal plans, Blue Air will phase out its last 737 classics this year.