Breeze Airways has revealed details of a major route expansion that will see the US start-up add flights to 10 additional cities, including several West Coast destinations, this year.
Breeze had previously disclosed plans to expand but had not revealed details.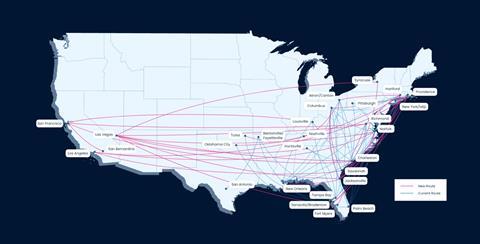 The carrier, launched in 2021 by David Neeleman, revealed the new routes on 8 March, saying the expansion will bring the number of cities served by Breeze to 28.
In May, the carrier plans to add flights to Nashville, Jacksonville and San Francisco. More expansion will come in June with flights to Fort Myers, Las Vegas, Los Angeles, Sarasota, Savannah and Syracuse.
Breeze will round out the expansion in August with flights to San Bernardino in California.
Among its new routes are cross-country flights made possible thanks to Breeze's acquisition of Airbus A220-300s.
Its planned new West Coast routes include flights from Los Angeles to Norfolk, Providence and Savannah, and from Las Vegas to Charleston, Fort Myers, Huntsville, Jacksonville, Norfolk, Richmond and Syracuse. From San Francisco, Breeze intends to fly to Charleston, Louisville, Richmond, San Bernardino and Tampa.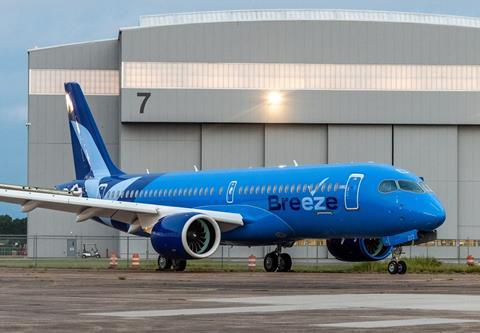 Breeze began flying in May using a fleet of Embraer E-Jets. It has sourced those regional jets from Air Canada and Azul.
Until now, Breeze's route map has centred on cities in the eastern USA.
The carrier acquired its first A220-300 in December 2021. It now operates one of those jets and 13 E-Jets, including A190s and E195s, according to Cirium fleets data.
Breeze holds orders for another 78 A220-300s, according to Cirium fleets data.