The first Breeze Airways flight took off from Tampa International airport at 10:44 local time on 27 May, marking the launch of a new US airline and another chapter in the start-up-studded career of founder David Neeleman.
Most of its 118 seats occupied, including one by Neeleman, the Embraer 195 climbed over Tampa Bay and banked north, headed for Charleston in South Carolina as Breeze flight 1.
"It's a monumental task," Neeleman says of achieving Federal Aviation Administration certification and getting Breeze airborne. "It was really a difficult [process] getting this… certification."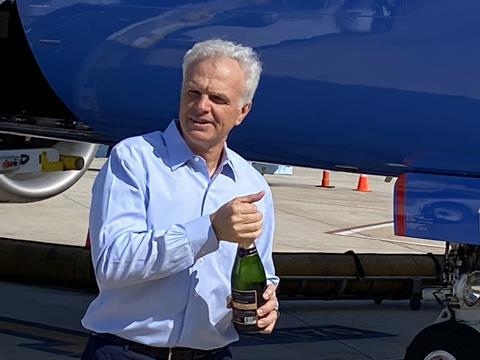 Neeleman predicts discounter Breeze will generate demand by its very presence on routes that currently have little or no commercial air service.
"We will see these markets [be] five to ten, even 20 times what they are today," he says.
Breeze begins operations with the Tampa-Charleston flight and an onward flight (number 2) from Charleston to Hartford, Connecticut. In the coming months it intends to add nine routes from Tampa and several dozen others from cities including Charleston, New Orleans and Norfolk.
The airline, which has an operations center in Islip, New York, chose to start in Tampa partly due to surging economic and population growth in Florida. Amid the pandemic, new residents have flocked to the state, many of them leaving more-expensive, higher-tax states like those in New England.
"People want to be in Florida," Neeleman says.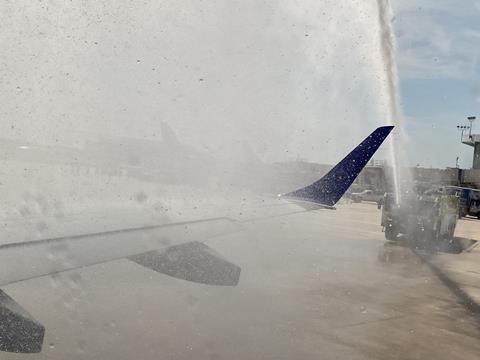 Representatives from Tampa airport operator Hillsborough County Aviation Authority say the number of air passengers now passing through Tampa is approaching 2019 levels and could surpass that level this summer.
Breeze takes to the sky with two E-Jets and expects to have 13 of those jets, including E195s and 108-seat E190s, flying by summer.
Speaking in Tampa, Embraer vice-president of sales and marketing in the Americas Mark Neely notes Neeleman has now started three airlines that operate E-Jets. Those include Breeze, JetBlue Airways and Brazil's Azul.
Neely calls E-Jets "perfect" for operating the types of secondary routes that Breeze targets.
The company expects in October to receive the first of 60 on-order Airbus A220s, and to take roughly one A220 monthly for five years.
Executives decline to specify where Breeze will deploy the A220s. But Johnson notes that the jets have transcontinental range, and Neeleman says routes such as Tampa to cities in South America "makes a lot of sense".
Breeze has no plan to acquire narrowbody aircraft larger than A220s, Neeleman says.
Types like A320neo-family jets and Boeing 737 Max are suited for a "completely different" type of airline, he adds, noting Breeze will fly under-served (and not-at-all-served) routes to secondary cities.
From Tampa the carrier will fly to places like Bentonville-Fayetteville (Arkansas), Huntsville (Alabama), Louisville (Kentucky) and Oklahoma City (Oklahoma). It will connect Norfolk to Providence (Rhode Island), Hartford and Pittsburgh, and fly from Charleston to cities like Columbus and Akron-Canton (both in Ohio), Louisville and New Orleans. "Very few have direct competition," chief commercial officer Lukas Johnson says of Breeze's routes.
Breeze will serve many cities in its network with multiple routes. For instance, it will connect Columbus to Charleston, Hartford, New Orleans, Norfolk and Richmond. That strategy creates economies of scale and helps Breeze generate a "strong first impression", Johnson says. "We don't want to serve any lone city pair."
Early bookings have been "doing very well… Better than anyone expected", he adds.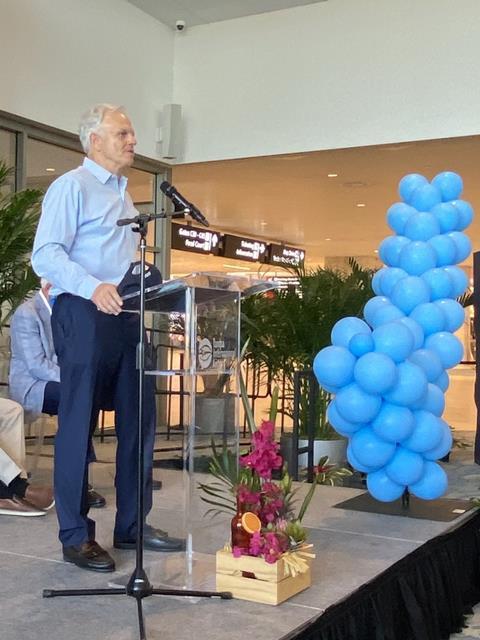 Breeze does have some competition.
For instance, ultra-low-cost operator Allegiant Air flies from St Pete-Clearwater International airport – which serves the Tampa region – to Columbus, Louisville, Norfolk and Richmond, according to Cirium fleets data.
Neeleman remains unsure how competitors will respond to Breeze's entry but says his team will be nimble, tweaking the network as needed.
"We will go somewhere else" if competition gets too heated, he says.
Neeleman has assembled a crew of experienced aviation executives. Johnson is a veteran of Allegiant. Chief operating officer Tom Anderson has worked at Azul, JetBlue Airways and Virgin America, and chief financial officer Trent Porter joins by way of Allegiant and US Airways.
In October, news broke that Breeze had secured $83 million in financing.