US startup Breeze Airways has made "some significant schedule adjustments" ahead of the busy summer travel season, becoming the latest US airline to suffer operational disruptions due to staff shortages.
The Salt Lake City-based airline, founded by serial entrepreneur David Neeleman, tells FlightGlobal on 27 June it trimmed flight frequencies, suspended some routes and postponed the introduction of numerous others.
The airline, which has been seeking to grow rapidly following its launch of operations in May 2021, says the pull back reflects staff shortages and supply chain constraints.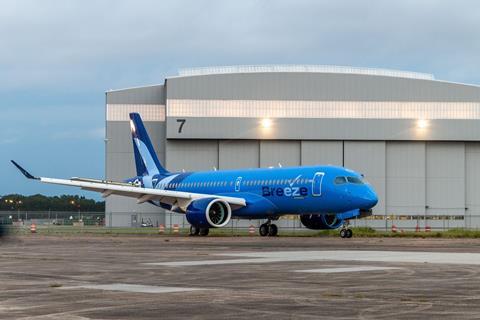 The changes included eliminating "one or two frequencies from a route, or suspending a seasonal flight early", the airline says.
"We've also had to postpone some new routes, including our [Los Angeles] operations, new routes from Savannah to Providence, Westchester and New Orleans, Westchester to Jacksonville, and Las Vegas to Charleston and Huntsville," Breeze adds.
Those routes will now launch later this year.
"These decisions were difficult to make and certainly not taken lightly," Breeze adds.
The news comes several months after Breeze announced a major expansion that included planned new routes and destinations. The company aimed to expand as it acquired new Airbus A220s.
Breeze says it will give customers whose flights have been cancelled full refunds and 10,000 BreezePoints (valued at $100) as compensation.
Breeze launched flights with a fleet of used Embraer 190s and E195s and initially concentrated its network in the Southeast USA. It now operates 13 of those aircraft and has added five new A220s to its fleet, according to Cirium fleets data.
Breeze has ordered 80 new A220-300s and expects to receive one monthly over the next six years. It holds options to purchase another 40.