Breeze Airways is planning to add a host of new routes and destinations to its network as it takes delivery of more Airbus A220s over the course of the year.
The Salt Lake City-based carrier, which launched operations in May 2021, says on 20 April it will in June begin introducing nonstop service to Los Angeles, San Francisco, Las Vegas, Charleston, Norfolk, Jacksonville and Savannah from New York-area Westchester County airport.
The airport, located White Plains, New York, is about 30 miles (48km) from New York LaGuardia airport, and a bit farther from New York's other major airports, John F Kennedy International and Newark International.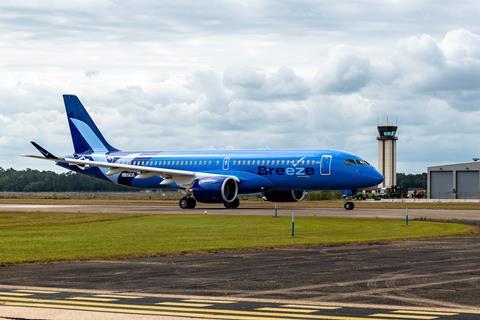 "Having lived so close to Westchester airport for many years, I wasted tons of time driving to JFK or Newark to travel to the West Coast," says Breeze's founder and chief executive David Neeleman. "Now we'll offer daily flights to the highest demand markets from New York, with the state-of-the-art Airbus A220 aircraft which pairs unrivalled comfort with 36 first class, 10 extra legroom and 80 standard seats – and half the noise footprint of past generations."
Current commercial air service from Westchester only serves cities as far west as Chicago, Breeze says.
"With today's announcement, the top two destinations from the New York metro area, Los Angeles and San Francisco, will now feature daily nonstop service," the company says.
In addition to the transcontinental routes, and an expanded network to southeast US cities, Breeze will begin service between New Orleans and Savannah, as well as between Hartford and Las Vegas.
Breeze began flying last May using a fleet of Embraer E-Jets, with routes concentrated in the eastern third of the USA. Last month, the carrier revealed details of a major route expansion that saw the start-up add flights to 10 additional cities, including several West Coast destinations.
The airline acquired its first A220-300 in December 2021. It now operates one of those jets – with orders for 78 more – as well as 13 E-Jets, including E190s and E195s, according to Cirium fleets data.
"The airline plans to double its fleet this year, from 13 Embraer 190 and 195 aircraft to 30 aircraft, including 13 Airbus A220s and four additional Embraer E-jets," Breeze says.
With its expansion, Breeze will fly 86 routes between 29 cities in 18 states, the airline says.