Breeze Airways is adding the Salt Lake City area to its route map as it launches flights within the western USA.
The carrier, based in Salt Lake City, says on 6 May it will introduce daily non-stop flights from Provo, Utah to Los Angeles, San Francisco and Las Vegas. The flights will start this year.
Provo is about 45 miles (72km) south of Salt Lake City. Breeze has not previously served the Salt Lake City region.
It also plans to add one-stop service from Provo to New York City-area Westchester County airport, and to San Bernardino in the Los Angeles basin.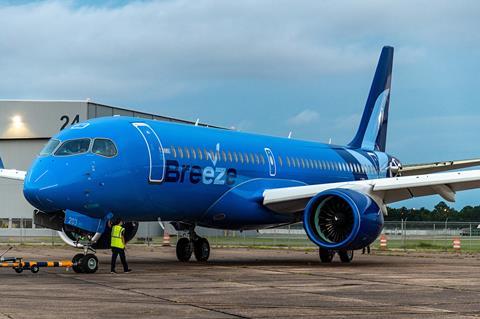 "It's been the question on everyone's lips since we first opened our headquarters – when are you flying from Utah?" Breeze chief executive David Neeleman says. "We're excited to continue growing and hiring from here, and now flying from Utah too."
The company employs 70 people in its head office and says it will add 200 more employees as part of this expansion.
Breeze launched operations in May 2021 and initially concentrated its network in the Southeast USA.
The carrier plans to operate the new routes, some of which are set to launch in August, with Airbus A220s and Embraer 190s.
Breeze says it aims to double its fleet this year to 30 aircraft, which will include 14 A220s. Breeze has ordered 80 new A220-300s and expects to receive one monthly over the next six years. It holds options to purchase another 40.
In March, the carrier revealed details of a major route expansion that saw the start-up add flights to 10 cities, including several West Coast destinations. A month later, it introduced non-stop service to Los Angeles, San Francisco, Las Vegas, Charleston, Norfolk, Jacksonville and Savannah – all from from Westchester County airport.
With this expansion, Breeze will offer 90 non-stop routes between 31 cities in 18 states, the company says.