Canadian discount start-up airline Canada Jetlines has applied to the US Department of Transportation (DOT) for authority to fly to the USA.
The Vancouver-based leisure carrier, which has not yet launched revenue flights, is "developing relationships with Melbourne-Orlando and Sarasota Bradenton International airports for Florida service", it says in a 13 September filing.
Orlando and Sarasota are among several Florida destinations popular with Canadian tourists during the northern hemisphere's winter. Thousands of tourists, also known as "snowbirds", flock to the warmer climate between November and April.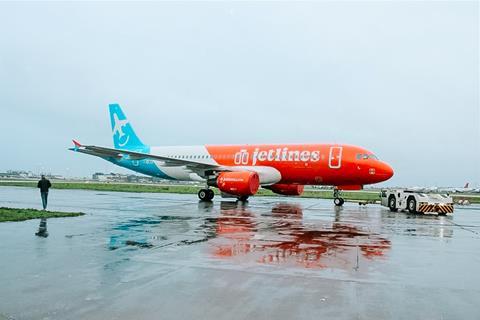 The carrier, which has pushed back its launch several times, now says it will begin revenue service on 22 September, with flights between its base in Toronto and Calgary International airport. It had previously planned to begin flying to Winnipeg and Moncton, New Brunswick, in early August, but delayed the start from 15 August to 29 August, and now to end-September.
According to Cirium fleets data, the carrier has just one airframe, an 11-year-old Airbus A320 formerly operated by Colombian flag carrier Avianca and Turkey's Pegasus. Jetlines has said it aims to acquire four more 737s annually starting in 2023, with plans to have 25 jets in 2025.
Jetlines has been many years in the making. The airline went through numerous top management changes since coming onto the scene as early as 2014. It is the second of two start-up Canadian discount airlines slated to launch this year. The other, Calgary-based Lynx Air, began revenue flights in April using new Boeing 737 Max 8s.
Lynx and Jetlines join WestJet subsidiary Swoop and Flair Airlines – both of which operate 737s – in that country's low-cost segment.