Canadian airlines will suspend all flights to Mexico and the Caribbean for the next three months as the country imposes even stricter measures to stem the spread of new variants of the coronavirus.
"The government and Canada's main airlines have agreed to suspend service to sun destinations right away," Canadian Prime Minister Justin Trudeau says on 29 January. "Air Canada, WestJet, Sunwing and Air Transat are cancelling air service to all Caribbean destinations and Mexico starting this Sunday up until April 30."
In addition to the flight suspensions, all arriving passengers will be subject to a coronavirus test upon arrival and must quarantine at an approved hotel for three days pending the test result, at their own cost. Trudeau says that this could be "about C$2,000" ($1,565).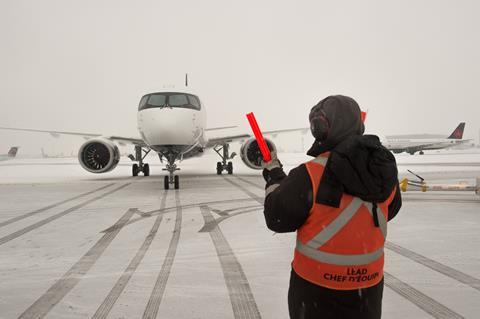 If the test is negative, the traveller will be released to spend the rest of the country's mandated 14-day quarantine at home under "increased surveillance measures", he says, adding that the government has hired private security firms and engaged local and provincial police forces to help in these efforts.
Should the test result be positive, the traveller will be transferred to a "government quarantine centre" to be closely monitored for the rest of the isolation period, Trudeau adds.
The measures are in response to new, more virulent variants of the coronavirus which could be more lethal as well.
"We know these variants represent a real challenge, and that's why we need to take extra measures," Trudeau says. "The number of cases that are tracked back to international travel is extremely low, but it's not zero."
Calgary-based WestJet says that will end flying to its 14 popular warm-weather destinations in the middle of the northern hemisphere's winter to comply with the request.
"The government asked, and we agreed," chief executive Ed Sims says in a blog post on the airline's website. "While we know that air travel is responsible for less than 2% of cases since the start of the crisis, and even less today, we recognize the government of Canada's ask is a precautionary measure."
"We have responded to their request and will suspend service to destinations in Mexico and the Caribbean," he adds.
Legacy carrier Air Canada's chief executive Calin Rovinescu adds that he believes a "collaborative approach… is the best means to respond to the Covid-19 pandemic".
"Through consultation we have established an approach that will allow us to achieve an orderly reduction in service to these destinations that minimizes the impact on our customers and will support important public health goals to manage Covid-19," he adds. "System-wide the incremental impact on Air Canada's cash burn is not material given the already reduced levels of passenger traffic resulting from Covid-19 and travel restrictions."
The air transport industry in Canada has been dealt numerous blows by the global health crisis. The government's strict restrictions, now in their 11th month, have kept customers away. A mandatory 14-day quarantine upon arrival in the country, in addition to province-specific rules, and a pre-departure testing requirement for all inbound passengers that was introduced on 7 January, have made both domestic and international travel difficult and complicated.
The land border between Canada and the USA has been sealed for non-essential travel since March, with the closure being repeatedly extended.
In addition, the Trudeau government has so far declined to offer sector-specific financial aid to support the airline industry through the pandemic. As a result, thousands of jobs have been lost and carriers have had to repeatedly adjust their networks and capacity.
Updates on 29 January to add Air Canada response.