Canada's Air Transat is firming its foothold in France by extending its seasonal service to the Mediterranean city of Marseille to a year-round flight.
The Montreal-based leisure carrier said on 12 April that it will now operate its Montreal-to-Marseille route all year with its fleet of Airbus A321LR aircraft. Marseille joins Paris and Lyon as popular French vacation destinations that are now fixtures in Air Transat's transatlantic network.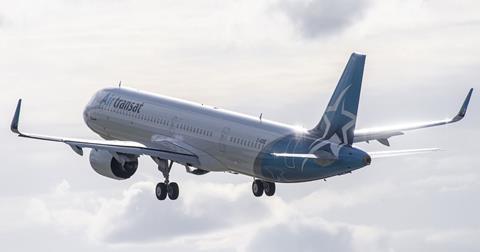 If Air Transat follows the same pattern, the next destination to be "annualised" will likely be Nantes in western France. Flights from Montreal to Nantes – originally scheduled to end in the fall – will be extended to 2 January 2024, the carrier says.
"Annualising key routes of our flight network is at the core of our strategy, which is facilitated by the agility of our Airbus A321LR fleet," says Michele Barre, Air Transat's chief revenue officer. "In the fall of 2022, we extended our service to Marseille until the end of the year for the very first time."
"Given the success of this initiative," Barre adds, "we are delighted to repeat the experience – this time to Nantes."
Touting itself as the "leading carrier between Quebec and France", Air Transat says it is the only airline offering direct flights from Canada to the airports of Marseille and Nantes, and that it now flies non-stop to seven cities in France.
"The annualisation of the Montreal-Marseille route is the result of a dynamic market that is increasingly less seasonal, driven by a solid leisure passenger base keen on direct long-haul flights," says Julien Boullay, director of sales and marketing at Marseille-Provence airport.
During its first-quarter earnings call on 9 March, Air Transat said it expects delayed delivery of three A321LRs as "the industry supply chain is experiencing sporadic difficulty". The aircraft had been due for delivery this spring but are now expected at the end of summer 2023.
The trio of new A321LRs will bring Air Transat's fleet of the long-range narrowbody jets to 15 aircraft. The Canadian carrier expects deliveries of a further two of the type next year.