Porter Airlines intends to resume operations on 8 September, following months of delays as the regional carrier watched for signs that Canada would loosen travel restrictions and that demand for flights would return.
The Toronto-based carrier had previously aimed to restart operations in July, but now says its flight schedule "is returning in phases".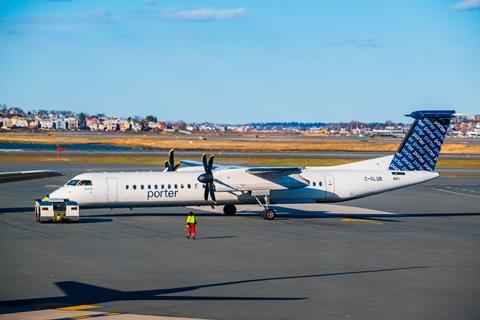 "Approximately 500 team members will be recalled to active status as the first phase of flights are introduced," says the airline. "More staff will be added in subsequent months as flights and destinations return to the schedule."
Porter will on 8 September restart domestic operations, beginning with routes within a network spanning Halifax, Moncton, Montreal, Ottawa, Quebec City, St John's, Thunder Bay and Toronto.
Flights to the USA will resume on 17 September, starting with routes to Boston, Chicago, New York, and Washington DC.
Porter shuttered its operations in March 2020. Canada's government provided no direct funding for that nation's airlines that year, but has since made loans available to airlines through its Large Employer Emergency Financing Facility (LEEFF). Porter chief executive Michael Deluce on 30 June announced a federal loan for C$270 million ($219 million), including C$20 million set aside for passenger refunds.
"We intend to draw on these funds as required in support of re-establishing operations through an uncertain period of travel demand," Deluce states. "Our immediate focus is on being ready to fly again as soon as public health conditions allow and governments modify travel restrictions."
Canada's two largest airlines WestJet and Air Canada are set to increase capacity on their networks from July through September as the national government re-evaluates travel restrictions in light of vaccinations against Covid-19. Leisure carrier Air Transat plans to resume operations on 30 July.