The Canadian government is criticising leisure specialist Sunwing Vacations after an operational meltdown left hundreds of passengers stuck when winter weather disrupted the carrier's operations earlier this week.
The Toronto-based company, like its US peer Southwest Airlines, has been scrambling to sort through the mess, leaving customers frustrated and angry. Canadian media reports that some of the carrier's passengers have been waiting to be repatriated from Latin American holiday destinations including Cancun for up to five days.
"I am very concerned with the current situation with Sunwing Airlines," Canada's minister of transport Omar Alghabra wrote on 28 December on Twitter. "Canadians are patient when it comes to weather disruptions but they rightly expect their airlines to keep them informed and to manage these disruptions smoothly."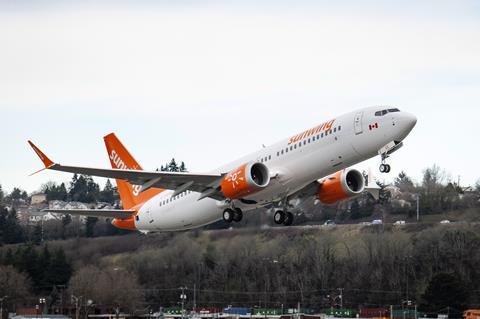 "This ongoing situation is unacceptable. Canadians must receive the information they need to return home safely. We expect all airlines to keep their passengers informed when it comes to delivering a service that they were paid to do," he adds.
Sunwing did not respond to a request for more information. On Twitter, however, the carrier said on 27 December that it has "completed two recovery flights so far this week, planned another eight recovery flights which are scheduled to depart up to and including Dec 30, and are currently finalising recovery plans for our remaining passengers in destination".
Sunwing operates an all-Boeing 737 fleet of 41 aircraft, and specializes in package tours to warm-weather destinations popular with Canadian tourists during the winter months.
According to Cirium networks data, the airline serves 25 destinations in Latin America and the Caribbean.
In March, Canada's second-biggest carrier WestJet said it would acquire Sunwing, with the Calgary-based airline's chief executive Alexis von Hoensbroech saying the combination "brings together Canada's two original low-cost carriers and positions us to accelerate growth in value-oriented travel, already the fastest-growing segment of the airline market".
But in October, competition authorities in Canada expressed concerns that the tie-up would bring "substantial lessening or prevention of competition in the sale of vacation packages to Canadians". Transport Canada must still approve the merger.
Sunwing is just one of several North American airlines that are currently dealing with the aftermath of a severe winter storm that brought operations to a near-standstill in numerous cities across the continent. USA's Southwest Airlines was hit hardest, so far forced to cancel almost 10,000 flights over the span of five days after its crew scheduling IT systems crashed.