Porter Airlines is postponing its return-to-service date from 31 August to 7 October amid ongoing domestic travel restrictions and the closure of the border between the USA and Canada.
The Toronto-based carrier suspended operations in March as the coronavirus downturn drove airlines worldwide to ground thousands of aircraft. Porter chief executive Michael Deluce today said the "the layers of travel restrictions are serving to keep most people at home and show no signs of easing", in line with his past statements that lifting of travel restrictions would be key to relaunching the regional airline.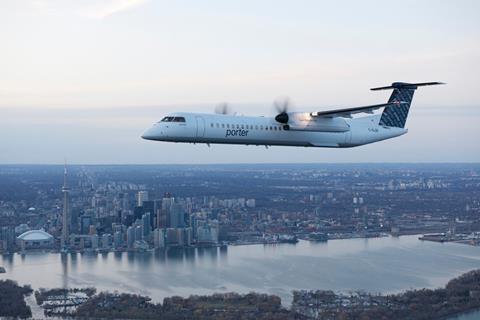 "We will continue making decisions based on how the situation evolves," he says, as quarantines and border closures could be extended.
Porter is Canada's third-largest airline after Air Canada and WestJet, serving 19 destinations in eastern and central Canada as well as the northeastern USA. The carrier has a fleet of 29 De Havilland Canada Dash 8-400 aircraft, with orders for 12 Airbus A220 aircraft, according to Cirium fleets data.
Nearly all of Porter's 1,500 workers have been furloughed, but funds from Canada's Emergency Wage Subsidy allowed the carrier to keep many of its workers on payroll.
Canada's payroll assistance programme subsidizes 75% of an eligible company's wages and has been extended through December. Unlike the US Congress, Ottowa has not set aside funds for non-labour related loans.