London Gatwick, Rome and Washington Dulles are among a raft of international routes that are being suspended until the end of March by Cathay Pacific as it seeks to conserve cash during the ongoing coronavirus outbreak.
The Hong Kong-based carrier had already cut 90% of its capacity into mainland China, where the virus started, and announced earlier this month that overall capacity would be slashed by 30% as a result of falling demand related to the outbreak.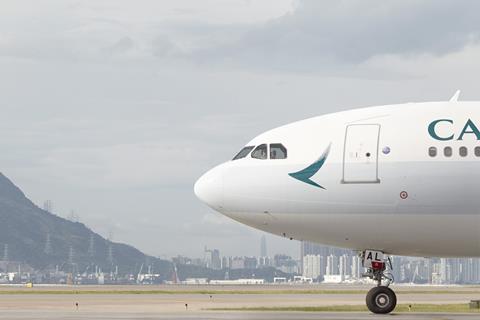 Cathay has now detailed the international routes that will be affected, noting that temporary suspensions will be in place until 28 March on routes linking Hong Kong with London Gatwick, Rome, Washington Dulles, Newark, Male in the Maldives, Davao and Clark in the Philippines, Jeju in South Korea and Taichung in Taiwan.
This is in addition to previously announced suspensions of mainland Chinese flights with the exception of those to Beijing, Shanghai, Chengdu and Xiamen.
Cathay serves both Heathrow and Gatwick in the UK, so will still operate flights to London during the suspension. The Oneworld member also serves New York JFK, and thus can continue to serve the US city despite the suspension of Newark.
Earlier this month, the airline asked employees earlier this month to take three weeks of unpaid leave. In addition to the effects of the coronavirus outbreak, Cathay has been hit hard by political unrest in Hong Kong, where pro-democracy protests have been raging since June.