Cathay Pacific expects to operate at 25% pre-pandemic capacity by year-end, citing optimism over improving travel sentiment as Hong Kong slowly eases some of its onerous travel restrictions.
In traffic results for June, the carrier also notes the easing of curbs will "continue to have a positive impact" on its cash burn, as it targets turning cash positive.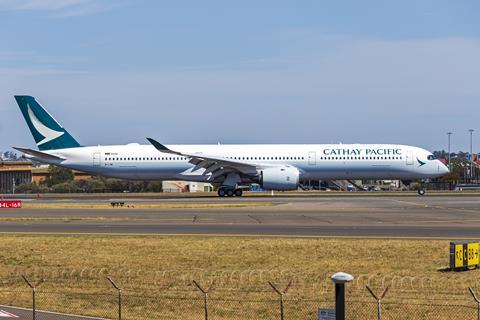 June marked the first time in over two years Cathay's monthly passenger numbers climbed above 100,000, underscoring the airline's long-drawn recovery amid Hong Kong's strict pandemic curbs.
The carrier flew over 150,000 passengers in the month, more than twice the number in May and a three-fold increase year on year.
However, it is still far below pre-pandemic levels, at just about 5% compared to June 2019.
Traffic, while a four-fold spike year on year, was only about 8% pre-pandemic levels. Capacity, meanwhile, rose about 36% year on year, but was only 11% against June 2019 levels.
Cathay's chief customer and commercial officer Ronald Lam says the airline is seeing "positive developments" as Hong Kong removes a number of restrictions, including flight bans, and cuts the quarantine length for inbound travellers.
"As sentiment for travel continued to improve, we resumed more flights to more destinations and deployed additional passenger flight capacity…to meet the demand," Lam says, noting that the airline doubled the number of flights against May.
While student travel helped drive demand, the airline also notes increased demand for flying between the UK and Australia, as well as the USA and the Philippines.
The airline carried close to 105,000t of cargo in June, a 4.4% drop year on year, while cargo revenue tonne kilometres fell about 15% year on year.
Lam notes that while tonnage across the network has been healthy, a drop in consumer demand, as well as long-drawn supply chain recovery, have weakened demand.