Domestic traffic in August at China's three largest airlines hit a new low in 2021 as parts of the Chinese mainland battled a surge in coronavirus infections caused by the more contagious Delta variant.
In traffic results released for August, the 'Big Three' — comprising Air China, China Eastern Airlines and China Southern Airlines — all carried significantly fewer passengers compared to the same period in 2020, as well as in July. Capacity, too, was significantly cut during the month.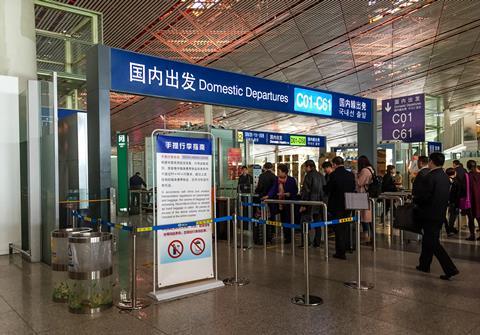 The latest wave of infections originated from the eastern city of Nanjing in late-July, and its rapid spread across large swathes of the country forced Chinese authorities to tighten social distancing measures, including limiting non-essential domestic travel.
While the latest wave of infections did little to hurt the carriers' July traffic, it had a significant impact in August.
Air China flew 3.16 million domestic passengers during the month, nearly 57% lower year on year, and a 58.5% decline compared to July.
Capacity was cut 42% compared to the same period in 2020, while traffic declined 54% year on year. On a month-on-month basis, the Beijing-based carrier reported a 46% and 58% reduction in capacity and traffic, respectively.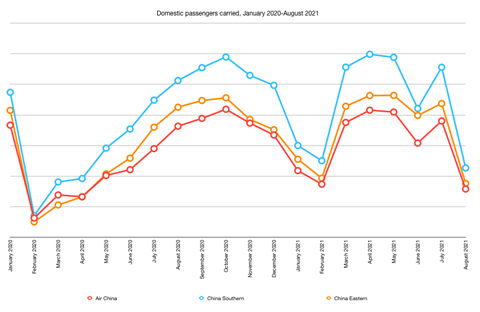 China Eastern carried 3.51 million passengers in August. This was 59% lower compared to 2020, and about 60% lower compared to July.
It cut capacity 43% year on year, while traffic plunged 57%.
China Southern carried 4.5 million domestic passengers in August, a 56% decline year on year. Compared to July, the figure was 59% lower.
The Guangzhou-based carrier reported a 52% drop in traffic compared to the same month in 2020, while capacity was 42% lower.
Against July's traffic results, China Southern saw traffic decline 59% and capacity falling nearly 48%.
The latest traffic results come as the Civil Aviation Administration of China (CAAC) said the wave of infections posed a "severe test" for Chinese carriers.
At a 14 September press conference, CAAC officials said the situation of the country's civil aviation industry was "not optimistic". Chinese carriers in August jointly carried 22.4 million passengers — a 52% drop year on year. Compared to the same month in pre-pandemic 2019, the figure represented a significant 63% decline.
The 'Big Three' were still loss-making in the six months to 30 June, despite reporting an uptick in revenue.
The latest wave of infections is expected to hit the carriers' revenue. China Eastern, in its traffic results, says the pandemic — especially the "fluctuating cases…[occurring] successively" in the country — continues to have "a significant impact" on its operations.
China Southern and Air China did not provide commentary on the potential revenue impact of the latest wave.