China's three largest carriers are to resume direct scheduled flights between the UK and China, following the easing of an operational ban imposed at the height of the coronavirus pandemic.
A notice from the British embassy in Beijing says the UK Department for Transport and the Civil Aviation Administration of China (CAAC) have "formally agreed" to the resumption of direct passenger scheduled flights.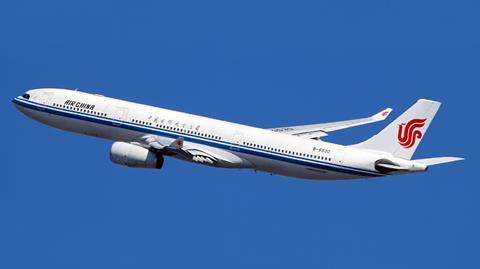 "This will end the ban on direct passenger services imposed by the Chinese authorities during the Covid-19 pandemic. Transit for travellers will continue to be permitted in third countries," the notice states.
China banned flights from UK in December 2020, following the discovery of the Delta variant of the coronavirus, and in keeping with the country's strict 'zero-Covid' protocols.
Currently, only Chinese carriers are allowed to resume direct flights to the UK. "Work is ongoing to resume routes for British airlines," the notice adds.
Air China has already resumed flying between Beijing to London Heathrow on 11 August, with flights operated by Airbus A330s, according to checks made on the airline's website. It also will start London flights from Shanghai Pudong on 13 August, also operated with A330s.
Compatriot China Southern Airlines will operate once a week to London Heathrow from Guangzhou, with 787-9 flights commencing 17 August. China Eastern Airlines is set to fly between Shanghai Pudong and London Heathrow once weekly from 12 August, using its Boeing 777-300ERs.
The easing of flight bans between UK and China comes amid a slow reopening strategy, which has seen quarantine time for inbound traveller halved to seven days.
China's 'Big Three' have already resumed operating to a number of international points in Asia, Europe and the USA, though frequencies are still far and few in between. Foreign carriers, especially Asian operators, have also begun mounting scheduled flights to China.
China remains among the rare number of countries still shut off to general travellers, as it pursues a zero-infection strategy.