Colombia's civil aviation regulator, Aerocivil, has approved 27 domestic routes for Chile's ultra-low-cost carrier JetSmart.
The Santiago-based airline said on 7 March that it will "immediately start the certification process" and it will build a base in Bogota.
"With the authorisation for the low-cost airline to enter the national market, the Colombian government, through Aerocivil, gives a strong signal of its willingness to maintain free market conditions in the air sector," the airline says.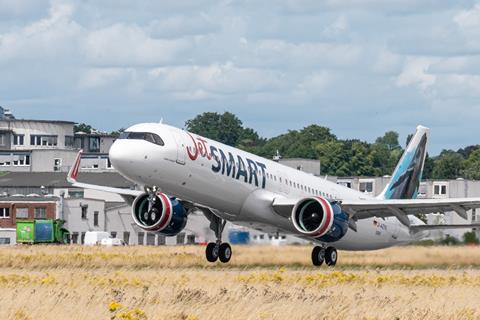 The announcement comes just two weeks after Colombian low-cost carrier Viva Air suspended operations. Viva had been trying to obtain clearance for a merger with Colombian heavyweight Avianca, which had resulted in regulatory scrutiny – the duration of which Viva had blamed for its decision to stop flying.
In recent weeks, both LATAM Airlines Group and JetSmart had also expressed interest in acquiring financially strapped Viva.
"The approval of our application to enter 27 domestic routes is excellent news, as well as the start of JetSmart's certification as a Colombian airline," says JetSmart chief executive Estuardo Ortiz. "With this we will immediately start the process and we will work hand in hand with Aerocivil to be able to comply with all the requirements in the shortest possible time."
The carrier says it has been approved to operate flights from the following Colombian cities: Bogota, Barranquilla, Bucaramanga, Cali, Cartagena, Medellin, Cucuta, Monteria, Pereira, Pasto, San Andres and Santa Marta.
"We are clear and firm about our commitment to the connectivity of Colombia and we want to add more flights at low prices as soon as possible," Ortiz adds. "We have certification experience in Chile, Peru and Argentina [and] are already an established airline with more than 18 million passengers in the region since our inception, providing quality service and point-to-point routes."
Viva ceased operations on 28 February, leaving passengers stranded across its network. Colombia's transportation superintendent has now taken control of Viva, which is seeking to submit it to a business recovery process.
JetSmart currently operates a fleet of 23 Airbus A320 and A321 aircraft, with 106 more on order and scheduled to be delivered by 2030. The carrier services 79 routes across Latin America and has operating certificates in Chile, Argentina and Peru.