Congo Airways' decision to swap orders for Embraer 175s to larger E190-E2s party reflects an effort by the company to expand on routes previously served by financially struggling competitor South African Airways (SAA).
"This will be an opportunity for us… We wanted to increase the capacity," says Kinshasa-based Congo's chief executive Desire Balazire Bantu.
In December 2019, Congo ordered two 76-seat Embraer E175s and took options to acquire an additional two examples. Deliveries were to begin this December.
But the government-funded carrier has now swapped those orders and options to four E190-E2s. It has also pushed back deliveries until May 2022, though the jets could arrive sooner, says Bantu.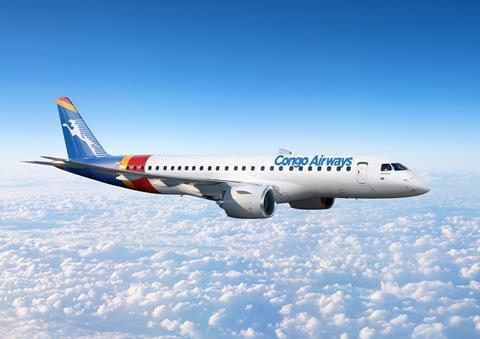 Congo will outfit the E190-E2s with 96 seats, including 12 in business class. It will use them to replace De Havilland Canada Dash 8-400s.
Bantu notes that SAA has historically flown from Johannesburg to both Kinshasa, capital of Democratic Republic of Congo, and Lubumbashi, in the country's south.
But with SAA's future uncertain amid a government-led rescue plan, Bantu seen an opportunity for Congo to expand on such routes.
Another South African airline, Comair, has also struggled and in May filed for business rescue.
Congo's other aircraft include two Airbus A320s and two Dash 8-400s. It primarily flies routes within the Democratic Republic of Congo, but also serves the Lubumbashi-Johannesburg route.