United Airlines has slashed its North American flight schedules 10% starting this spring, implemented a hiring freeze, offered staff unpaid leave and postponed some salary increases – all in response to sagging demand from the ongoing coronavirus outbreak.
The airline disclosed the measures in a 4 March memo to employees that outlines the Chicago-based carrier's virus response efforts.
The memo leaves no doubt the coronavirus outbreak has finally hit US carriers domestically – a segment of the market the industry had hoped might be shielded from an outbreak that more-significantly affected other countries, but that continues spreading globally.
The 10% North American schedule reduction applies to United's US and Canada flights. It takes effect in April, though the carrier has "already begun planning similar reductions in May", says the memo, signed by United chief executive Oscar Munoz and president Scott Kirby.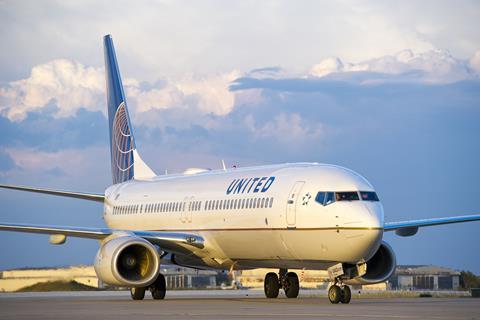 United's memo also says the airline shaved 20% off its international schedule in April, with similar cuts expected for May. The carrier has already cut flights to several Asia destinations and suspended service to Shanghai, Beijing, Chengdu and Hong Kong.
"The decline in our international bookings, combined with lower demand among US travellers, requires significant changes to our domestic schedule," says the memo. The schedule reductions are "being implemented in a way that minimises the impact on our employees and our operation".
"For example, we're reducing the number of frequencies per week, finding routes with alternative travel options via other United hubs and delaying start dates for seasonal travel to certain destinations – without closing any domestic stations," it says.
"We sincerely hope that these latest measures are enough, but the dynamic nature of this outbreak requires us to be nimble and flexible moving forward," it adds.
United did not immediately respond to requests for more details about the capacity cuts.
No other US carriers have announced coronavirus-related domestic schedule reductions.
"We are continuing to closely monitor the situation and will make any updates as necessary," says American Airlines.
United has also immediately given all US-based employees "the option to apply for a voluntary, unpaid leave of absence. It has suspended "all new hiring" (critical positions excluded) through at least 30 June and is considering postponing new-hire training classes.
United has also delayed from 1 April to 1 July its "2019 merit salary increases for all management and administrative employees", the memo says. Unionised staff will continue receiving contract-specified raises.
Also on 4 March, the Air Line Pilots Association, International (ALPA) issued a memo making United's member pilots aware of the company's "extraordinary actions during this rapidly changing situation".
The memo mentions "operational route and scheduling changes affecting the short-term manpower planning". It says more information will not be available until 8 March, "following a network re-optimisation and review process".
"Several widebody aircraft have been redeployed domestically on hub-to-hub, [transcontinental routes] and to spring break destinations," ALPA's memo says.
The news comes the same day Munoz and other airline executives discussed the virus with President Donald Trump during a meeting in Washington.
Executives urged Trump to help calm travellers' concerns, with Munoz stressing the importance that officials continue "to project stability".