Croatia Airlines has held preliminary talks with Slovenian government and airport officials over potentially beginning flights from Ljubljana.
The Slovenian airport has been without a home carrier since the collapse of Adria Airways last year. Cirium schedules data shows that prior to the coronavirus shutdown, no single carrier had a dominant presence - Aeroflot, EasyJet and Turkish Airlines were the largest operators with each representing around a fifth of ASK capacity from the airport.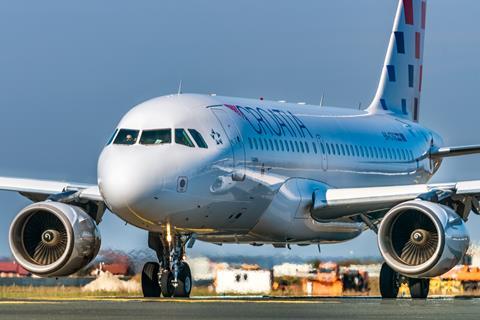 A spokesperson for Croatia Airlines says it is potentially interested in establishing flights from Ljubljana, the prime hub of neighbouring Slovenia.
"In that context, an initial meeting was held with representatives of the Slovenian Ministry of Infrastructure and Ljubljana Airport, but so far nothing specifically has been agreed," the spokesperson says.
Croatia Airlines has been gradually restoring its flight network since May, initially on domestic routes. From 7 June it will expand service to five destinations from Zagreb, serving Amsterdam, Copenhagen and Frankfurt as well as the domestic links to Dubrovnik and Split.
A week later the carrier will add Zurich to its international links and from 15 June it plans to restore flights to Brussels, Dublin, London, Munich, Rome, Sarajevo and Vienna.
The airline at the start of June disclosed a slight deepening in first quarter net losses to Kn110.5 million ($16.4 million) from Kn98.6 million.