Delta Air Lines is expanding its service on routes from its west coast hub, Seattle-Tacoma international airport, bringing the number of destinations it serves from the northwestern US city to 56.
In addition to Dallas/Fort Worth, Columbus, Ohio, Austin, Texas and additional flights to 11 other domestic destinations beginning on 8 June, the Atlanta-based carrier says that it will offer a daily flight from Seattle to London-Heathrow from 2021. The expansions bring the total number of daily Delta flights leaving Seattle to 190.
Delta will be using its new fuel-efficient Airbus A220s on the Dallas and Columbus routes, Delta says on 2 March.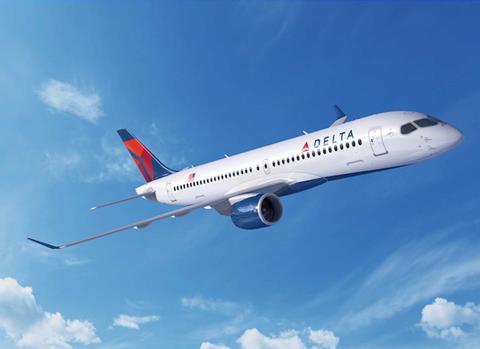 "In addition to new and expanded service to Dallas/Fort Worth, Columbus and Austin, the quiet and spacious A220 will also operate to top business markets like San Francisco, San Jose, Denver and Kansas City," the airline says in a statement on its website. "Select Seattle-to-Orange County flights will be upgraded to the A220 starting Aug. 17, 2020."
Delta has 30 of the Canadian-built regional jet in its fleet so far, and 65 more on order, according to Cirium fleets data.
On Sunday, Delta said that it would be suspending or reducing service on several international routes, including to Italy and South Korea due to the decline in demand following coronavirus fears.