Philippine carriers will bear the brunt of a short-term suspension of domestic air travel from the country's main Luzon island group, as a "community quarantine" that was first imposed on the metropolitan Manila area has been expanded to include the entire region.
The restrictions, effective 15 March for Manila and 17 March for all of Luzon, will be in place until 14 April. Other provinces have also announced quarantine measures of their own.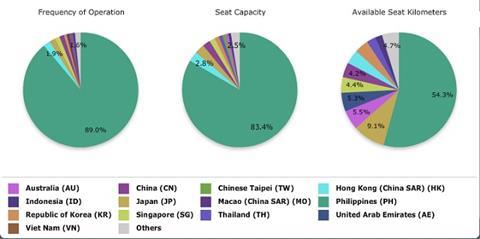 Cirium schedules data shows that in February, domestic routes account for 83% of Cebu Pacific's and Cebgo's seat capacity, and 81% of Philippines AirAsia's capacity.
Flag carrier Philippine Airlines is the least affected, with domestic routes accounting for 67% of its February capacity.
In response to the lockdown, Cebu Pacific will suspend all operations from 19 March to 14 April. It has suspended domestic service since 15 March and will operate its last international flights on 18 March.
Philippine Airlines will suspend domestic flights from 17 March to 12 April. It has scheduled international flights until 19 March and will provide an update of plans for its international services from 20 March to 12 April.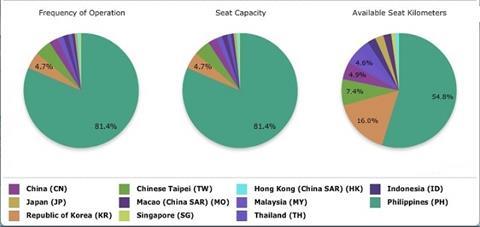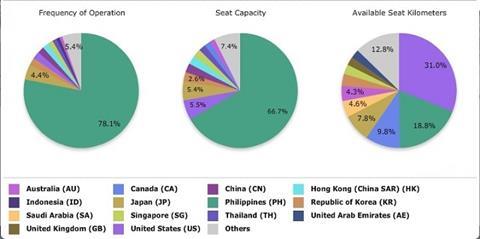 Meanwhile, Philippines AirAsia has suspended all domestic flights until 14 April, and will suspend all international flights out of Cebu, Clark, Kalibo, and Manila between 20 March and 14 April.
Earlier in the month, the Civil Aviation Authority of the Philippines (CAAP) and the Manila International Airport Authority (MIAA) were ordered to defer the charges imposed on local carriers for take-off, landing, and parking. Repayment of the charges will only be made after the coronavirus ceases to be a threat in the Philippines.