Low-cost carrier Ryanair is to open a base at Stockholm Arlanda this winter, initially basing two aircraft at the Swedish airport.
Ryanair will operate 89 weekly flights across 21 destinations from the Swedish capital. That includes its first domestic services in Sweden, linking Arlanda with Gothenburg and Malmo.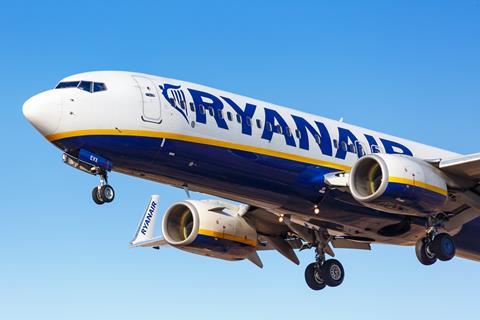 Ryanair chief executive Eddie Wilson says: "This development will create over 60 direct jobs and offer our Swedish customers a host of European destinations to choose from this winter, with 21 new routes connecting Sweden's capital to the likes of Alicante, Brussels, London, Milan, Thessaloniki and Vienna."
The Irish carrier already operates to Stockholm's Skavsta airport, as well as Gothenburg. Cirium schedules data shows in June it will resume flights to its other Swedish destinations, Malmo, Vasteras and Vaxjo Smaland.
Ryanair's expansion plans for Sweden also include new service this autumn from Gothenburg to Zagreb, Riga and Billund.
Swedavia director of market & commercial development, Charlotte Ljunggren, says: "Their large number of destinations is an important addition and complement to the existing range of destinations available at our airports. At the same time, access is improved both within Sweden and outside the country, and this is especially true for the important visiting relatives and friends travel segment.
"Access will be important in the restart after the pandemic, and more direct routes are important for regional growth and for the tourism industry all across Sweden. We have had a good partnership for many years with Ryanair that we now look forward to developing in the years to come."