Air New Zealand is relaunching its mystery holiday packages, showing how domestic travel remains a key focus in the region while Covid-19 continues to decimate international travel.
Domestic travel is virtually the only way airlines in the Asia-Pacific region can get passengers to board their aircraft these days. In both New Zealand and Australia, airlines and tourism companies have been trying to promote travel within their own backyards to salvage some revenues from a catastrophic year.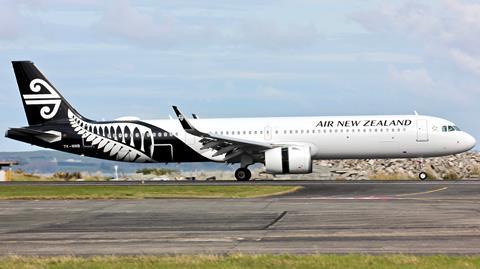 China puts forth a positive example – the country's big three carriers have hit pre-pandemic levels and even surpassed that in September.
New Zealand is not there yet, but Cirium schedules data shows the trend is heading in that direction, and certainly faster than across the Tasman Sea, where border restrictions remain in some Australian states.
From a 58% year-on-year cut in June capacity, the number of seats available on New Zealand domestic flights has gradually increased over the southern hemisphere winter.
That has been boosted by the return of Jetstar to the domestic market after the latest round of physical distancing measures were eased in September.
Current schedules indicate that December's seat capacity will be down a relatively small 22% year-on-year, with air traffic and ASKs painting a similar picture.
Air New Zealand tells Cirium that in October its domestic schedule is operating at nearly 85% of pre-Covid-19 levels.
"We have been encouraged by domestic leisure demand and business traffic is also rebounding."
Air New Zealand says it is aiming more for the leisure market this time with its mystery packages, which include flights to one of 20 domestic destinations, hotel accommodation and car hire or transfers. It is generally expected that leisure travel will be quicker to recover than business after the pandemic.
"Previously these had been mostly purchased by corporate customers, but we've developed the packages further to appeal to leisure travellers," Air New Zealand General Manager Brand and Marketing Jeremy O'Brien says in a 20 October statement.
Still, while domestic flying offers some green shoots of recovery, it is not enough to make up for no international flying.
"With the outlook for future passenger demand uncertain and highly dependent on the removal of travel restrictions both in New Zealand and globally, Air New Zealand will be a smaller business for some time to come," the carrier says.
ACROSS THE DITCH
Meanwhile, Australian executives are looking to New Zealand for how demand could return when border restrictions are fully eased.
Back in June, seat capacity on domestic flights within Australia was down 87% year-on-year, but like New Zealand, the situation has improved in recent months and is expected to show a 43% decline in December.
Australian domestic travel remains subject to local travel restrictions, however, with some states having shut their borders in July.
That took its toll on Qantas, which had been counting on a domestic recovery. It had expected domestic capacity to be at 60% of its pre-Covid-19 levels by now but is currently operating at less than 30%. Chief executive Alan Joyce said today the new restrictions cost the airline A$100 million in first-quarter earnings and would bite into the second quarter of its current financial year too.
Still, the country's carriers are poised to act for a recovery in domestic travel, with several states beginning to reopen their borders.
"We know that latent travel demand is strong. We saw that with our 'scenic flight' earlier this month, which sold out in 10 minutes. And we saw it when South Australia opened to New South Wales, with 20,000 seats selling across Qantas and Jetstar in just 36h," Joyce told shareholders at the group's annual general meeting.
Once Tasmania announced it was easing travel restrictions to most other states, Jetstar said it would be running flights between Hobart and Gold Coast for the first time since 2013. The Qantas unit is also planning to start operating Hobart to Sydney once Tasmania eases restrictions on travel to New South Wales.
Joyce states: "With most international travel off-limits for a while, we're expecting to see a boom in domestic tourism once more borders open up. The group is very well positioned to make the most of that opportunity,".
It is not just Qantas and Jetstar eyeing the opportunities. Regional Express has stepped up its game against QantasLink in the regional market and last month announced it was in talks with private equity for A$150 million funding to support its plans for commencing domestic jet operations to major cities using 737s.
Still, Joyce expects that with Virgin Australia reviewing its strategy, Qantas and Jetstar's share of the domestic market will grow to 70% from 60%.
He adds: "We know the upswing will materialise – just later than planned."
Analysis by Victoria Bryan of Cirium