Arajet, a new low-cost start-up carrier based in the Dominican Republic, has applied to the US government to launch routes between the Caribbean country and the United States.
The airline, based in Santo Domingo, on 1 March filed a request with the US Department of Transportation (DOT) to fly between the Dominican Republic and San Juan (Puerto Rico), Miami, and New York. In the filing, it says it aims to begin the flights in "Fall 2023".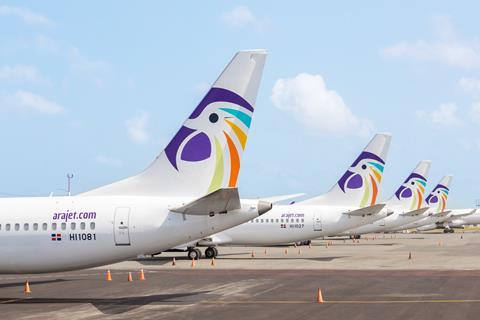 "At the present US carriers operate extensive services to the Dominican Republic (more than 52,000 flights in 2022)," Arajet writes. "Authorising service by Arajet will introduce a degree of balance to the market and provide the travelling public with additional attractive low-fare travel options."
According to Cirium networks data, currently American Airlines, United Airlines, JetBlue Airways, Delta Air Lines, Sun Country Airlines, Spirit Airlines, Frontier Airlines and Southwest Airlines all fly between cities in the USA and the Dominican Republic.
Arajet launched operations in September 2022, and currently serves 17 destinations in 11 countries across Latin America and the Caribbean with a fleet of five leased Boeing 737 Max aircraft. More than 50% of its routes are new non-stop services, the company adds.
Arajet is looking to add more leased jets to its fleet this year and has 20 Max jets on order with Boeing, the first of which it expects to arrive in 2024.
"Arajet hopes to grow its network in both breadth (destinations) and depth (frequencies) to improve connectivity in the region," the company writes in the filing. "This includes several destinations in the United States, where there is significant leisure travel demand to the Dominican Republic, as well as a large Dominican diaspora."
The airline's second expansion phase "will see new services to other cities that do not currently have direct services to the Dominican Republic", the carrier adds.
Arajet says it's also supporting efforts to negotiate an open skies agreement with the USA, "to allow greater flexibility in service between the two countries".