The Dominican Republic's new low-cost carrier AraJet has begun selling tickets for a projected 15 September launch.
The airline, which is the successor of now-defunct Flycana, will begin operating a network of 13 destinations in nine countries across Latin America, according to its website.
The carrier aims to expand to 20 cities in 12 countries, including to Canada, later this year.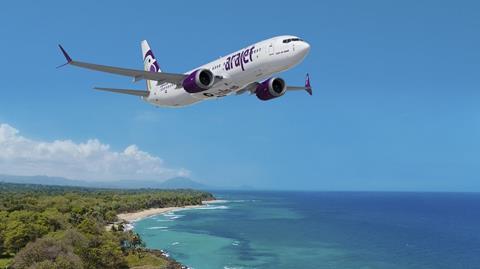 "We promised low fares…never seen before in our country," chief executive Victor Pacheco said on 9 August. "This is the first step in the process to build the first strategic connecting hub in the Caribbean that will foster the Americas connectivity at the lowest fares."
"Additionally, starting in September we are kicking-off our mission to convert Las Americas International airport into a premier Latin American air hub," he added.
The new airline's inaugural flights will be between Santo Domingo and Mexico City, the company says.
After that, the carrier will add routes to Monterrey, Mexico; Barranquilla, Cali and Cartagena, Colombia; Quito and Guayaquil, Ecuador; Lima, Peru; Guatemala City, Guatemala; San Salvador, El Salvador and St. Martin, Aruba and Curaçao in the Caribbean.
In October, Arajet plans to begin flights to Toronto and Montreal; Medellin and Bogota, Colombia; San Jose, Costa Rica; and Kingston, Jamaica.
Destinations in the United States will come "in the near future", the company adds.
Last November, the civil aviation regulator of the Dominican Republic approved 30 routes for DW Dominican Wings SA, flying under the new brand name AraJet, formerly Flycana, as the first low-cost carrier based in that country.
The airline had intended to begin revenue service in January.
According to Cirium fleets data, the carrier has already taken delivery of three Boeing 737 Max 8s, with another coming at the end of the month. Pacheco told FlightGlobal last year that it will be operating operating Boeing 737 Max 8 and Max 8-200, the high-density version of the Max 8 with additional exit doors that is also operated by Ryanair. It finalised an order for 20 of the type earlier this year.