EasyJet is basing four additional aircraft at London Gatwick as the low-cost carrier looks to take advantage of rebounding in passenger demand in the new year.
The extra capacity will allow the UK operator to "return to growth as early as next summer" from its largest base, it expects, forecasting a "rapid return to flying once restrictions are eased".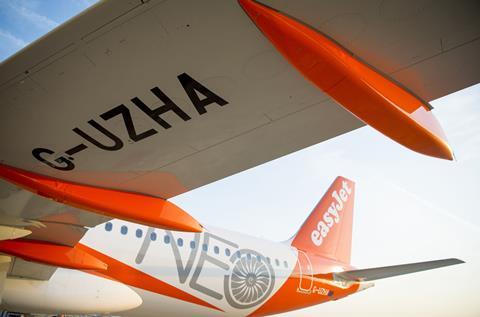 New connections to Aberdeen, Bilbao and Cagliari are planned, while the frequency of services on several other routes will increase.
In total the carrier plans to operate 71 aircraft from Gatwick next summer, to 107 destinations.
"In anticipation that demand for travel will return – and having recently seen signs of growing confidence by our customers in making plans for travel next spring and summer – we have decided to continue investing at our largest base, London Gatwick," states EasyJet chief executive Johan Lundgren.
"This commitment is in line with our strategy of maintaining a strong network of number-one and number-two positions at Europe's leading airports, providing even more popular destinations for customers."
He adds: "Thanks to the decisive actions we have taken throughout 2020 we are ready to bounce back and capture demand as it returns. As the largest airline at Gatwick, EasyJet's unrivalled network of major airports, friendly service and great value mean customers will choose us when they are able to return to the skies."
Cirium data shows that EasyJet's capacity remains severely depleted from the coronavirus crisis, with relatively few services restored so far. On 15 December, the carrier operated a seven-day average of just 106 flights, against 1,362 a year earlier.
The data also highlights in the importance of Gatwick to EasyJet's operations. On 15 December, for example, the airport accounted for 25% of the departures from its 10 most important facilities, measured as a seven-day average, followed by Belfast and Manchester.
Frequencies will be increased on domestic routes from Gatwick to Belfast, Glasgow, Edinburgh and the Isle of Man, and to international destinations Athens in Greece, Naples and Bari in Italy, Lisbon, Faro and Funchal in Portugal, Lanzarote, Gran Canaria and Tenerife in the Canary Islands, and Bodrum and Dalaman in Turkey.