UAE-based carriers Emirates and Etihad will be among the first airlines in the world to use IATA's Travel Pass app, with trials to begin in the first half of this year.
The app allows passengers to create digital versions of their passport and manage their Covid-19 vaccination and testing statuses.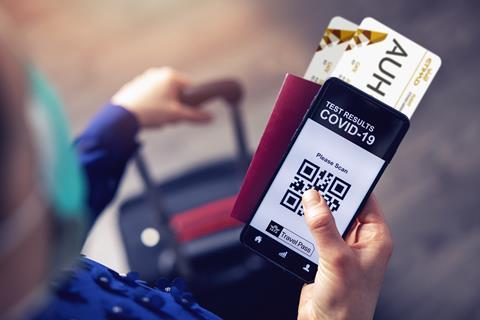 It is intended to enable contactless travel through airports and to smooth the process of sharing Covid-19 test and vaccination statuses with airlines and national authorities.
From April, Emirates will implement phase one of the travel pass, using it to validate Covid-19 PCR tests before departure from Dubai. This will enable passengers to share their test results with the airline even before reaching the airport.
Abu Dhabi-based Etihad will offer the travel pass to passengers on select flights from its hub in the first quarter, allowing guests to create a digital passport, receive Covid-19 test results, and verify they are eligible to undertake their journey.
"This is the first step in making international travel during the pandemic as convenient as possible giving people the confidence that they are meeting all Covid-19 entry requirements by governments," states Nick Careen, IATA's senior-vice president for airport, passenger, cargo and security.
"As borders reopen, IATA Travel Pass will be further enhanced with more capabilities to meet all governments testing or vaccination verification requirements, and Emirates customers will be among the first to have these services."
The app will enable passengers to find information on travel and entry requirements for all destinations, regardless of where they are travelling from. It is being developed with a registry of testing and, at some point, vaccination centres, making it more convenient for passengers to find facilities at their departure that will meet the standards for their destination.
The platform will also allow labs and test centres to securely send test results or vaccination certificates to passengers, through a global registry managed by IATA.
"While international travel remains as safe as ever, there are new protocols and travel requirements with the current global pandemic," states Emirates chief operating officer Adel Al Redha. "We have worked with IATA on this innovative solution to simplify and digitally transmit the information that is required by countries and governments into our airline systems, in a secure and efficient manner."
Mohammad Al Bulooki, Etihad Aviation Group's chief operating officer, says the app is an important step is restoring passenger confidence in flying, adding: "This latest partnership with IATA, alongside similar programmes the airline has in development, shows the technology is advancing quickly to make it a reality."