Emirates is restarting operations to Seattle, Dallas and San Francisco and increasing capacity to other destinations in the Americas over the coming two months, as the Middle Eastern carrier continues to rebuild its long-haul network.
Dubai-based Emirates plans to resume serving Seattle on 1 February and Dallas and San Francisco on 2 March.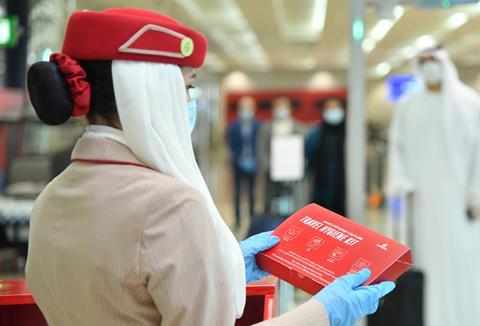 This will take Emirates' North American network to 10 destinations, following the resumption of services to Boston, Chicago, Houston, Los Angeles, New York JFK, Toronto and Washington DC.
San Francisco flights will be operated using a Boeing 777-300ER, while the Seattle and Dallas routes will be operated with a 777-200LR. San Francisco and Seattle will be served four times weekly, and Dallas three times per week.
Emirates will also, from 1 February, increase the frequencies of its services to New York, LA and Sao Paulo, operating twice-daily flights to JFK, a daily flight to LA and a fifth weekly service to Sao Paulo.
Cirium data shows that the Gulf carrier's services to North America remain significantly depleted compared with their pre-Covid levels. On 10 January, the carrier has a seven-day average of only six flight arrivals to the continent, for example, down from 15 a year earlier, a decline of 60%.
By seats tracked, the decline is even greater. On 10 January, the carrier operated a seven-day average of 2,173 seats to North America, down from 6,472 a year earlier – a fall of two-thirds. While the latest capacity increases will push that figure higher, it will remain well below the levels seen last year.