Emirates has disclosed that it is doubling its Airbus A380 frequencies to London Heathrow and increasing capacity on three other UK routes, in response to the UK government's recent decision to add the UAE to its travel-corridor list.
The Dubai-based carrier says that from 27 November its London Heathrow route, which is currently served twice-daily with an A380 and daily with a Boeing 777, will be operated four times a day using an A380.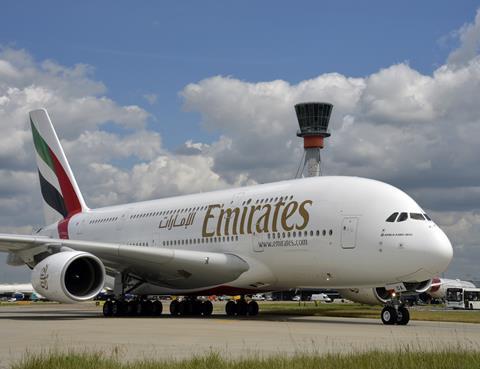 Emirates' Manchester service will increase from eight flights a week to 10 from 1 December. Six of the flights will be operated using an A380 and the remaining four will be 777-300ER services.
The airline's Birmingham and Glasgow routes will be served daily from 27 November and 1 December, respectively. Both of these services are currently operated four times a week.
Emirates says its "significant expansion" in the UK is in response to "increased demand" as a result of the recent establishment of a UK-UAE air travel corridor. Earlier this month, the UK government said that arrivals from the UAE would no longer have to quarantine for two weeks upon entering the country.
Separately, Emirates plans to boost A380 frequencies to Moscow from twice-weekly to daily from 25 November. This, says the carrier, will enable it to meet "increased demand from travellers seeking to holiday in Dubai, or at popular island destinations within easy reach through Dubai, such as the Maldives".