Emirates Airline has signed an interline agreement with South African carrier CemAir, which becomes the Middle Eastern carrier's fourth partner in the country.
The deal adds a number of domestic destinations to Emirates' network from Johannesburg and Cape Town, including: Bloemfontein, Kimberley, Margate, Durban, Hoedspruit, Plettenberg Bay, George and Sishen.
CemAir, which is based in Johannesburg, mainly uses a fleet of Bombardier CRJs, plus Dash 8 and Beech 1900 turboprops on a domestic-focused network.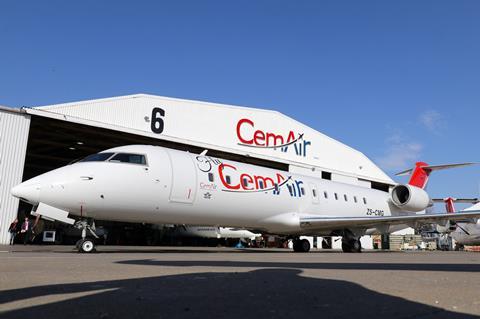 "As we continue our expansion during the post-Covid recovery period, we realise that now more than ever partnerships are key to our success," says CemAir chief executive Miles van der Molen. "Working with market leaders like Emirates Airline is a further demonstration of our commitment to our customers to provide the best service and value."
With flag carrier South African Airways still grounded, Dubai-based Emirates has been adding partners in South Africa during the Covid-19 crisis, and recently boosted its operations to and from Johannesburg, Cape Town and Durban to a total of 14 flights per week.
The UAE carrier's 20-year codeshare agreement with SAA has been on hold since the latter suspended operations amid a major financial restructuring last year.
Speaking on 16 August when Emirates announced it had expanded its co-operation with South African regional operator Airlink into a full codeshare partnership, Emirates chief commercial officer Adnan Kazim said "we eagerly anticipate to restart" a relationship with SAA "once the airline is back in operation".
On top of tie-ups with Airlink, SAA and now CemAir, Emirates in November 2020 announced an interline agreement with South African low-cost carrier FlySafair.