Middle Eastern carrier Emirates is to resume its Dubai-London Stansted flights, restoring services to the three airports in the UK capital it operated to prior to the pandemic.
Long an operator into London's Heathrow and Gatwick airports, Emirates added flights to Stansted in the summer of 2018, only for the route to be axed when the pandemic curtailed international travel.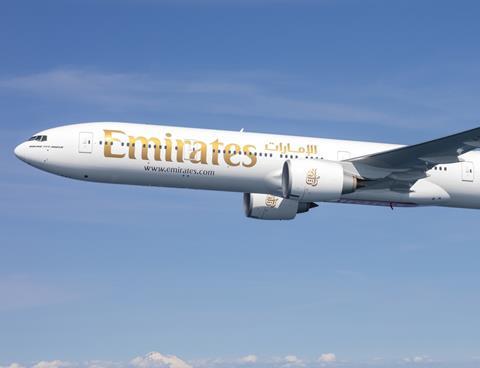 While retaining connectivity at Heathrow throughout the pandemic, Emirates only resumed Gatwick flights in December. It will now supplement this with five-times-weekly Stansted flights from the start of August, increasing the frequency to daily from the beginning of September. It will deploy Boeing 777-300ER aircraft on the route, on which it is the only operator.
Emirates divisional vice-president in the UK Richard Jewsbury says: "Stansted is a key hub for Emirates in the east and southeast of the UK and resuming operations will offer better connectivity to businesses and communities in the region while also boosting the UK economy through scaled-up inbound travel and additional cargo capacity.
"The UK is Emirates' most important international market and bookings have continued to surge with the further easing of travel restrictions."
Emirates serves Heathrow six times daily and Gatwick twice-daily, while also operating to Birmingham, Glasgow, Manchester and Newcastle.
The airline is also restarting passenger flights to Bali from the start of May and Buenos Aires via Rio de Janeiro in November, while lifting frequencies on flights to Abuja, Lagos, Mauritius and Singapore over the coming months.