Passengers entering England from countries outside its safe travel corridor programme will from 15 December be able to cut the period for which they have to automatically self-isolate from 14 days if they record a negative coronavirus test five days after arrival.
Under the initiative, passengers arriving into England by air who opt into the scheme will need to book their Covid-19 test before travel and pay for it from a private provider. They will still be required to self-isolate for five days on arriving into England before taking the test.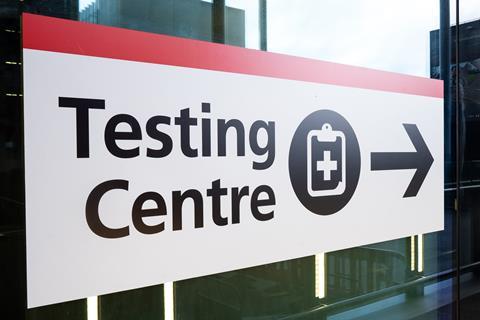 UK transport secretary Grant Shapps says: "We have a plan in place to ensure that our route out of this pandemic is careful and balanced, allowing us to focus on what we can now do to bolster international travel while keeping the public safe.
"By giving people the choice to test on day five, we are also supporting the travel industry as it continues to rebuild out of the pandemic."
The Government says the move is based on evidence which demonstrates that a test after five days of self-isolation provides materially better results than just having a test on arrival, because it allows time for the virus – if present — to incubate. This helps reduce the risk of a false negative result.
UK carriers and airline bodies welcomed the development, though continue to press for pre-departure testing to be used as a way of removing quarantine restrictions altogether.
Airlines UK chief executive Tim Alderslade says: "By more than halving the quarantine period we should see demand tentatively return and more routes and destinations become viable once again.
"That said, a test at day five does not get rid of quarantine and that's why we look forward to working with government to move towards a pre-departure or domestic testing regime that can remove safely the need for self-isolation altogether, as quickly as possible. This is the only way we're going to comprehensively reopen the market."
Likewise, Virgin Atlantic chief executive Shai Weiss calls the move a "vital first step" in reopening the skies in the run-up to Christmas.
"However, a five-day quarantine is likely to prove a significant deterrent for travellers, especially those on business. The only way to fully reopen vital trading and travel links… is to move to a robust pre-departure testing regime to safely replace quarantine as soon as possible.
"Passengers should be able to take a test from up to 72 hours before departure, including a rapid test at the airport on the day of departure."
The testing option to reduce the mandatory quarantine period is an outcome from the UK government's recently presented Global Travel Taskforce report.
The UK is also introducing new financial support for English airports and ground handlers – conditional and capped at up to £8 million per site – to address their fixed costs. This scheme will open in January.