Ethiopian Airlines will next month lift capacity on its China flights and restore frequencies to pre-pandemic levels from the start of March following the recent easing of Covid travel restrictions in the Asian country.
The African carrier will be one of the first international operators to restore pre-Covid capacity levels to China since restrictions, including the requirement for visitors to quarantine, were eased earlier this month.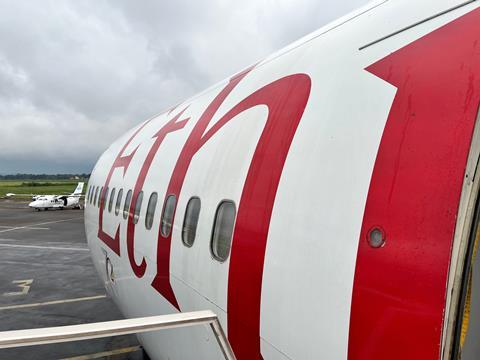 China was a key market for Ethiopian prior to the pandemic with the carrier serving Beijing, Chengdu, Guangzhou and Shanghai. Cirium schedules data shows it has been serving all four cities since November, albeit at much lower frequencies.
It will now from 6 February lift to daily its service to Guangzhou, before restoring frequency to 10 flights a week from the start of March. Ethiopian will lift frequency on its Beijing and Shanghai service to four flights a week next month and restore daily links from 1 March. It will also add back a fourth weekly flights to Chengdu, restoring to 28 its weekly China services.
Ethiopian Airlines chief executive Mesfin Tasew says: "China is one of the largest markets for Ethiopian Airlines outside Africa, and the increase in flight frequencies will help revive the trade, investment, cultural and bilateral cooperation between Africa and China in the post-Covid era."
He adds: "We are keen to further expand our service to China going forward."
Ethiopian also operates cargo flights to Guangzhou, Changsha, Shanghai, Zhengzhou and Wuhan.
International carriers, particularly in Europe and North America, are largely yet to commit to restoring China capacity despite the easing in travel rules. Though China lifted the most onerous of Covid travel restrictions, PCR testing remains in place – while many countries have reimposed a testing requirement of their own on Chinese arrivals amid the surge in Covid cases which has followed China's dropping of its zero-Covid policy.