Etihad Airways is resuming flights to South Africa including a connection to Cape Town, in the latest sign of returning connectivity between Gulf states and the country.
The Abu Dhabi-based carrier, which served Johannesburg prior to the pandemic, will from November resume services to the South African city. It will also fly an onward connection to Cape Town. It will operate the route thrice weekly from 25 November using 290-seat, three-class configured Boeing 787-9s.
Cape Town was previously served between 2009 and 2012.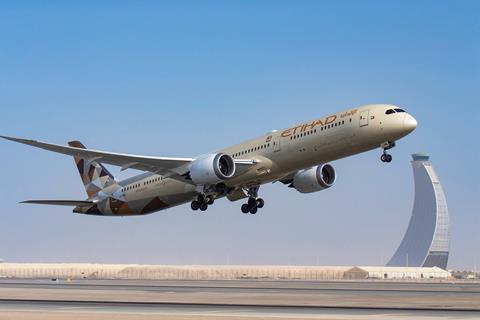 Etihad will also from 26 November start three weekly flights to the Indian Ocean archipelago of Zanzibar, deploying 158-seat Airbus A320s on the route. It marks the first time the carrier has served Zanzibar.
Etihad group chief executive Tony Douglas says: "Johannesburg is an important route on our network and offers vital connectivity to and from the southern African region. On the southern coast, Cape Town is a breathtaking part of the world, with something to offer the most discerning traveller. Likewise, the beautiful island of Zanzibar will complement our network to the Maldives and Seychelles."
Fellow Gulf carrier Dubai-based Emirates recently boosted its operations to and from Johannesburg, Cape Town and Durban to a total of 14 flights per week. It has also recently added codeshares with local carriers Airlink and CemAir, while it today reaffirmed its codeshare partnership with recently relaunched national carrier South African Airways.
A number of countries have in recent days begun lifting Covid restrictions on travel to South Africa, including the USA.