United Arab Emirates carrier Etihad Airways is to relaunch services from Abu Dhabi to the Qatari capital Doha from 15 February following the restoration of diplomatic links between the Gulf states.
Etihad and Qatar Airways both served the route until services were abruptly halted in the summer of 2017 after the UAE was among several states in the region to cut diplomatic ties with Qatar.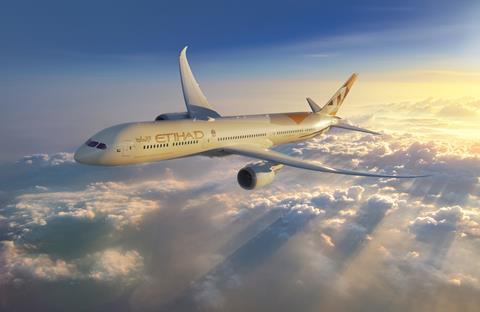 However the recent reconciliation agreement reached at a Gulf Co-operation Council summit earlier in January has paved the way for the restoration of air links to Doha from a number of states in the region, which have been blocked since the spat.
Abu Dhabi-based Etihad plans to operate daily flights to Doha from 15 February using a mix of Airbus A320s and Boeing 787-9s on the route.
Etihad Aviation Group senior vice-president, global sales and cargo, Martin Drew, says: "With ties between the UAE and Qatar restored, the restarting of passenger services between the two capitals will once again support the growth of trade and tourism between the two nations.
"Adding a new destination to Etihad's network during the Covid-19 pandemic is another step towards the gradual expansion of normal scheduled services to more cities across the airline's global network."
Qatar Airways has already this month reintroduced flights to the Egyptian capital Cairo and Riyadh in Saudi Arabia following the easing in tensions, and appears set to resume its own flights to both Abu Dhabi and Dubai in the UAE shortly. Qatar Airways' website shows it offering non-stop flights to Dubai and Abu Dhabi from 28 January.
This article has been updated to show non-stop flights to Dubai are bookable from 28 January and not 21 January as originally stated