Air traffic management body Eurocontrol projects flight activity in the region will not return to pre-crisis levels until 2024 at the earliest and most likely not until 2025.
The outlook, made in a fresh forecast issued today, is based on travel restraints within Europe being eased from this summer. If that gets delayed until the first quarter of next year, Eurocontrol does not see air traffic in Europe returning to pre-crisis levels until 2025.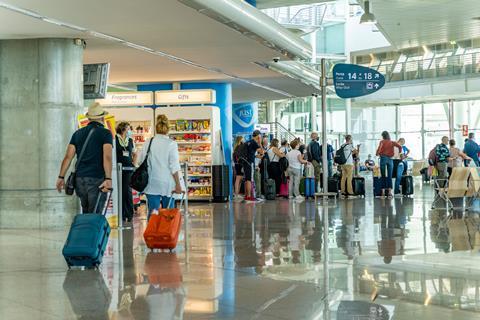 Eurocontrol director general Eamonn Brennan says: "We're heading into summer 2021 and most restrictions are still in place despite encouraging progress on the vaccination front. So while we are anticipating an uptick in summer traffic, our most-likely medium-term scenario envisages a co-ordinated lifting of restrictions by Q1 2022 between regions, which facilitates more long-haul travel.
"We'll probably have around 50% of 2019 traffic for all of 2021", which would be about 5.5 million flights, he adds. "By the end of next year, traffic will only have recovered to 72% of 2019 levels, and will only get back to close to where we were pre-pandemic by 2025."
Eurocontrol notes the scenario for a return to pre-crisis traffic levels by 2024 is aligned with airline plans to provide capacity to meet a strong recovery in demand this summer
"However, this first scenario is considered optimistic given the current state of vaccine rollout progress, with a co-ordinated approach across states less likely to be reached in the coming months," it says.
While the UK has outlined its traffic light system for the restoration of flights, only a dozen countries – including only one mass tourism destination market, Portugal – have been added to the 'green list' of countries where quarantine-free travel is permitted.
European ministers yesterday adopted a framework which would allow EU states to reopen to visitors from countries deemed to have coronavirus under control or to fully vaccinated travellers.
"The second scenario remains most likely, whereby 2024 traffic recovers to 95% of the 2019 figure based on widespread vaccination take-up across Europe and co-ordinated easing of travel restraints being reached by Q1 2022 between global regions, with more long-haul flows starting to return," Eurocontrol says.
It also issued a third pessimistic scenario under which traffic activity reaches only three-quarters of pre-crisis levels in 2024 and does not fully recover until 2029. "This scenario envisages persistent restrictions over the coming years owing to patchy vaccine uptakes and/or renewed outbreaks of new virus strains, with passenger confidence negatively impacted," it says.
Eurocontrol sees flight movements reaching 50% of pre-crisis levels this year under its most-likely forecast, which is broadly in line with its last forecast in November 2020. But now, its most optimistic case is for flight movements to reach 56% of 2019 levels this year, far lower than its original best-case scenario for the sector.
Similarly, its most-pessimistic outlook would see flight movements reach, in 2021, only 43% of 2019 levels, lower than its November 2020 worst-case view of 50%.