Wizz Air passenger levels remained steady at just under 3 million in October as stronger travel demand was sustained into the European shoulder season.
The European budget operator carried 2.98 million passengers in October, all but matching the 2.99 million it flew in September.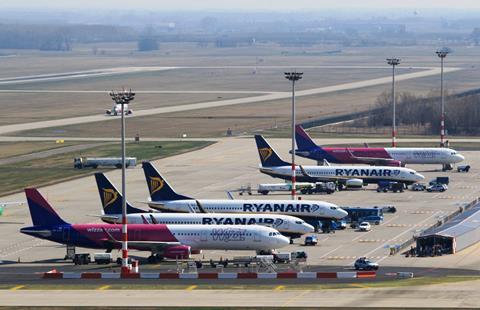 This showed no drop-off in passengers despite October marking the tail-end of the northern hemisphere summer season. Pre-crisis, Wizz flew 3.7 million passengers in October 2019 and 3.8 million in the preceding month.
Travel demand in Europe was bolstered over the busy half-term holiday period in the UK – a key market for Wizz – after the government further eased some of the restrictions on travel, notably allowing cheaper lateral flow tests for vaccinated travellers.
Ryanair and Wizz traffic Aug-Oct 2021
Airline
Aug-21
Sep-21
Oct-21
FlightGlobal analysis of airline traffic announcements
Ryanair
Passengers (m)
11.2m
10.6m
11.3m
Change vs 2019
-25%
-25%
-18%
Wizz Air
Passengers (m)
3.6m
3m
3m
Change vs 2019
-10%
-21%
-19%
This trend was even more evident in numbers reported by Ryanair yesterday, which showed it carried 11.3 million passengers in October. This was not only an improvement on September, but outstripped the 11.1 million the budget carrier flew in August. It marked Ryanair's busiest traffic month since the crisis.
While still short of the 13.8 million it transported in October 2019, Ryanair passenger numbers were at more than four-fifths of pre-crisis levels for the first time since the crisis hit.
Ryanair and Wizz are the first two European carriers to publish traffic results for October.