The Federal Aviation Administration has approved a new Aeromexico route to the USA despite Mexico still having a degraded "Category 2" FAA safety rating.
The Mexico City-based carrier said on 31 January that US authorities granted it authorisation to launch the first route to the USA from Mexico City's new Felipe Angeles International airport (AIFA). The daily flight to Houston's George Bush Intercontinental airport will begin operating on 1 May with an Embraer 190.
"After a regulatory assessment and an evaluation of current conditions, US and Mexican authorities approved this route considering that AIFA also serves the metropolitan area of the Valley of Mexico," the airline says.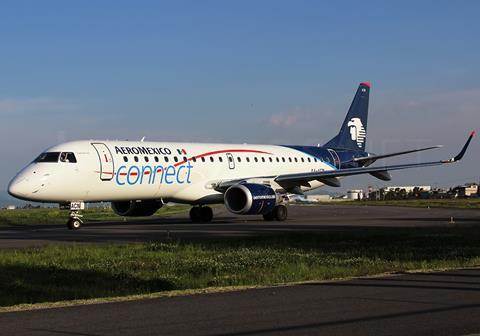 "Aeromexico is working closely with the Mexican aviation authorities to recover Category 1 aviation status under the International Aviation Safety Assessment programme of the Federal Aviation Administration, in compliance with the standards of" ICAO, Aeromexico adds.
The FAA downgraded Mexico's safety status to Category 2 from Category 1 in May 2021. The US aviation regulator said at the time that the country and its civil aviation regulator AFAC no longer met ICAO safety standards.
While the FAA permitted existing air service between the countries to continue, the Category 2 designation restricts Mexican carriers from introducing new US routes and hinders US airlines' ability to market and sell tickets on Mexican carriers via code-share partnerships.
The FAA says on 1 February that it is continuing to "provide assistance to Mexico's civil aviation authority" in recovering Category 1 status.
"We approved carriers serving existing routes from the new airport in Mexico City, but that has nothing to do with the ongoing safety assessment process," the US regulator adds.
Shifting Mexico to "Category 2" meant the FAA was unsatisfied with a country's laws or regulations, or that the country's civil aviation authority had a poor record with technical expertise, trained personnel, record keeping, inspection procedures or resolution of safety concerns.
Currently, Aeromexico serves 22 routes between the two countries. The airline last year restructured and emerged from the Chapter 11 bankruptcy process, into which it had entered voluntarily during the coronavirus crisis.