Finland's flag carrier Finnair has applied to the US Department of Transportation (DOT) for authority to fly routes the USA for Lufthansa Group's low-cost Eurowings Discover subsidiary.
"Finnair has entered into a wet lease arrangement with EW Discover whereby Finnair will operate certain flights on EW Discover's behalf on routes between the European Union and the United States," reads the filing, submitted by Lufthansa on 14 April on the Finnish carrier's behalf.
The routes will be operated as codeshares with Lufthansa, Austrian Airlines and Swiss International Air Lines. All three of those carriers belong to Lufthansa Group.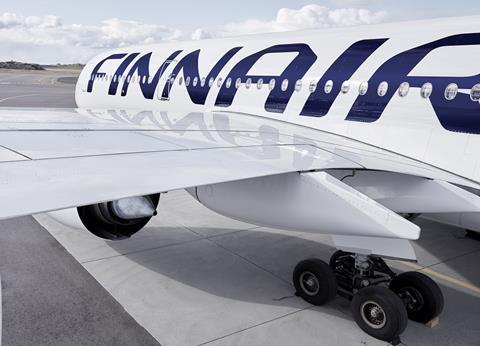 "The codeshare flights… will commence on or about May 15, 2022, provided the carriers have received all necessary governmental authorisations," the filing says.
If approved, the airline will operate the Eurowings flights between Frankfurt and the US cities of Las Vegas and Tampa, and between Munich and Las Vegas, it adds.
The Finnish airline has suffered since late February due to airspace restrictions that add up to 7h to round-trip flights between Europe and Asia, according to a recent Eurocontrol analysis of Flightradar24 data.
The changes reflect new flight patterns introduced after the closure of Russian and Belarusian airspace to many airlines in Europe, alongside decisions by some countries to avoid those airspaces voluntarily in response to security concerns amid Russia's invasion of Ukraine.
Finnair's home city of Helsinki is most affected among the four airports considered by Eurocontrol, reflecting an impact that tends to lessen the further south and away from Russia a European airline is based. Services to and from northeast Asia are, however, significantly affected across the board.
The carrier, which operates a fleet of 19 long-haul Airbus A350s and eight A330s, according to Cirium fleets data, did not say which of those aircraft will be used for the Eurowings flights.
Finnair did not immediately respond to a query for more information.