Finnair has scaled back its flight schedule for the winter season, in response to weakened demand amid ongoing Covid-19-related travel restrictions.
The Oneworld carrier states that between 25 October 2020 and 31 March 2021 it will operate 75 flights a day, down from 350 in the same period of 2019. Finnair had announced in May that it intended to operate 70% of its normal capacity by the end of this year.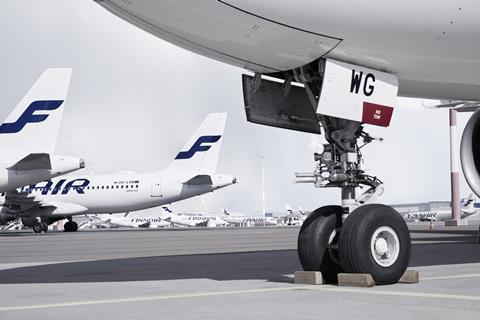 "The pandemic situation and related travel restrictions continue to have a heavy impact on demand for air travel, and thus it is not feasible to operate all the flights we in May planned for this winter," states Finnair chief commercial officer Ole Orver.
The airline will serve 45 domestic/European destinations between October and March, with "reduced weekly frequencies on almost all routes". Its long-haul network will focus on Tokyo, Seoul, Hong Kong, Shanghai, Nanjing and Bangkok, which it notes are all "important cargo destinations".
On the Bangkok route, Finnair will only carry passengers on the inbound flight to Helsinki. It will continue to operate cargo-only flights to Singapore and New York.
Finnair will also temporarily close its lounge in the Schengen area of Helsinki airport. Its lounges in the airport's non-Schengen area have been closed since March.
The airline says it aims to increase frequencies in the spring.