Finnair is more than halving the number of flights it intends to operate during October as resurgent coronavirus cases and heightened travel restrictions hit passenger demand.
The carrier says it will now operate just 70-80 daily flights throughout the month against its previous plan for around 200.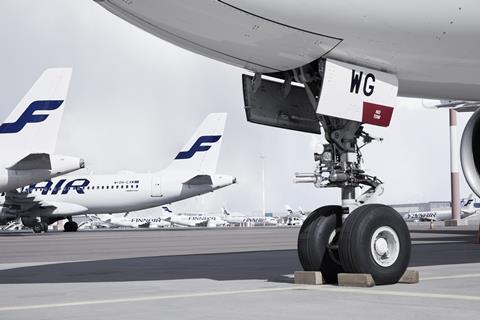 "We want to maintain critical connections for Finland to European centres and to our most important Asian destinations, as travel is vital for the Finnish business community," states Finnair chief commercial officer Ole Orver. "However, as travel restrictions have a direct impact on demand, operating the traffic programme we published earlier is unfortunately not feasible."
The carrier's updated plans see it serving 42 destinations in October, with frequencies reduced on almost all of its routes.
Planned restarts to international destinations including Bergen, Barcelona, Madrid, St. Petersburg, Stuttgart, and to domestic destinations Tampere and Turku will be postponed.
Long-haul services will continue to Tokyo, Seoul, Hong Kong, and Shanghai, which are also important cargo destinations. Finnair will additionally operate flights to Nanjing during September and October, and continue cargo-only flights to New York and Singapore.
Cirium's flight data shows the carrier operated a seven-day average of 18 passenger flights on 8 September, against 214 a year prior. Having climbed steadily through July and early August, the carrier has pared back its passenger operations notably over the past four weeks.