Finnair's winter 2022 flight schedule reflects expectations that the block on EU-based carriers overlying Russia could endure for some time, as it continues to suspend services to several destinations in Japan.
The Helsinki-based airline is particularly exposed to restrictions on overflying Russia for geographic and strategic reasons – in the latter case given its historical focus on connecting Asia with Europe.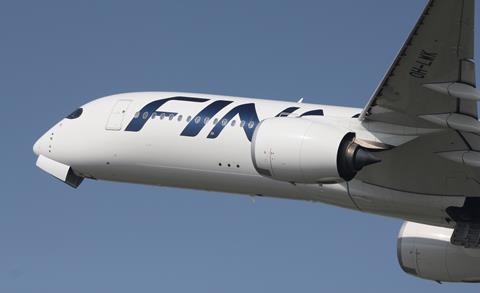 Outlining its plan for winter 2022 on 19 April, the Oneworld carrier noted that it still expects to serve 10 destinations in Asia, five in the USA and 63 across Europe, with chief commercial officer Ole Orver saying that travel is "recovering at a rapid pace" as the pandemic recedes.
Flights from Helsinki to Tokyo Haneda, Nagoya, Osaka and Sapporo are, however, still suspended for the winter season, "due to the continued closure of Russian airspace".
Announcing its summer 2022 schedule in November 2021, Finnair had cited Japan as its major focus in Asia amid China's Covid-related restrictions on international arrivals, describing the former as its "single largest market outside our home market Finland".
Spearheading its remaining connectivity with Asia in winter 2022 will be daily services to Delhi, Singapore, Seoul and Tokyo Narita, alongside less-frequent flights to other destinations in the region, including Bangkok, Mumbai, Hong Kong and Shanghai.
Finnair notes that it will also continue to operate flights from Stockholm Arlanda to Asian destinations including Bangkok and Phuket, alongside some US services from the Swedish airport.
Recent Eurocontrol analysis of flight data shows that services originating in northeastern Europe are vulnerable to significantly longer flight times to northeastern Asia in particular, because of the Russian airspace restrictions.
Amid that network impact, Finnair does not indicate how its winter 2022 capacity will compare with pre-Ukraine-war or pre-Covid levels.
The operator has previously suggested that its strategy for maintaining its Asian network amid Russian airspace restrictions includes resorting to polar routes, although it has also warned of a significant financial impact from a reduction in flying.
Furthermore, it emerged in recent days that Finnair has applied to the US Department of Transportation for authorisation to fly routes to the USA for Lufthansa Group's low-cost subsidiary Eurowings Discover.