Commercial airline services have today begun at Bidar airport, located in the north-eastern part of Karnataka state in India.
The country's ministry of civil aviation confirms operations have begun with daily flights to Bengaluru, operated by regional carrier Trujet.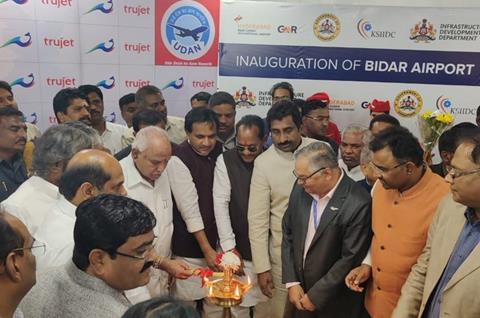 The new route is the latest to be launched under India's regional connectivity scheme – called UDAN – a subsidy support scheme aimed at opening new regional routes. The aviation ministry says it has now opened 252 commercial routes and 45 airports since the launch of the wide-ranging programme in 2017.
Under the UDAN programme, airport operator GMR Hyderbad International Airport (GHIAL) signed a concession to operate the civilian enclave at Bidar airport.
Executive director at GHIAL, SGK Kishore, says: "We are very pleased to partner with the Government of Karnataka to support efforts for all-round development of Bidar and nearby regions and we are confident that the start of commercial operations at Bidar will provide a boost to the local economy through better connectivity for the people of Bidar and the large number of tourists who visit the area."
It notes Bidar city is the headquarters of the Bidar District and is home to important religious shrines and historic monuments, as well as being known for Bidriware metal handicraft products.